Sunday, September 24, 2006
*yawn*
*yawn*

im so slpy.. woke up at 9 plus, all thanks to zhengrui who msg ppl early in the morning telling ppl his new number.. haha.. slept at 1 plus ytd.. actually was conferencing with yingying, wingyan, rongxuan and peiqin.. after that kahhwa, shangchuan and kenny joined us.. haha.. rongxuan's phone batt went flat so she left us half way.. in the end at nite left me, kenny, kahhwa and shangchuan.. actually can put down the phone at 12 plus but den none of us wan to be the pang seh kia so continue talking.. haha.. in the end kenny was the pang seh kia coz he couldnt take it anymore.. :) kahhwa darn pro sia.. so late slp still can wake up at 7 plus.. *clap clap*
went for breakfast and den go walk around the market coz nth to do ma.. den after that went to J8 eat sakae sushi.. my cousin is working there so we went there to eat den got discount.. hehhs! wah! i 1st time see him smile leh!

FIRST TIME

! lol.. coz everytime see him his face is black de.. =X anw after that need rush to huiqin's hse give her the shirt.. :) den went for car wash! SHIOK! sit inside see them wash.. hahaha.. no lah.. is snow wash.. spray on the car really lyk snowing.. haha.. :D den went home le..
and im slpy! need study and go do hw le.. byebye! :)
❤JOEI!:D 4:02 PM
Saturday, September 23, 2006
study
yoyo! although nth interesting happened im still blogging.. haha.. coz im seriously too bored and i dun tink i hav the mood to study.. lol..
came back frm dinner with my family.. yupyup.. and i ate watermelon with noodles.. haha.. coz the fruits come le den i juz use my chopsticks and take.. muz try smth new.. =X hahah.. anw b4 that i went to amk library with feli and yingying.. i did my hw! see im guai! :) and when we were in the library, got one grp of indian students frm dunno wad primary sch came..

SUPER NOISY!

den since they are so

YOUNG AND INNOCENT

, yingying bully them.. stare at them when they look at us.. hahaha.. so funny lah! they all very scared.. hehhs! feli left first coz she need go dunno where.. den after tat me and yingying go walk around amk although got nth to see.. i needed to go popular buy the correction tape refill but dun hav! ass! when i dun wan got so many, when i wan, one oso dun hav.. -.-'' nvm.. vivien lend me hers.. haha.. she lend me 2days ago.. haha.. ty vien! :) anw after tat go walk around aimlessly.. we decided to look for smth.. cnt say.. hehe.. den we saw one cat.. it seem to be dead.. but tink its slping.. den got some naughty kids go kick it.. wtF lah.. so poor ting le still go kick.. though i dun lyk animals.. =X
den we went home coz my shoulder aching le.. anw when she was in the bus.. got one shaui ge and she's sitting beside him leh!
YINGYING IS IN LOVE!

no lah.. joking nia.. its not true! :)
end here.. byes!
❤JOEI!:D 7:50 PM
happy birthday!
good mornin everyone! though i said i wont blog alrd but i came here to wish norine happy birthday..
HAPPY BIRTHDAY NORINE! :)
yupyup.. nth to say coz its only the start of the day.. haha.. anw my mum keep asking me to wear my contacts.. -.-'' lol.. later goin to amk library to study with yingying, alicia and felicia.. lol.. yupyup..
not gonna update later unless smth interesting happen later lor.. haha..
bye! :D
❤JOEI!:D 9:41 AM
Friday, September 22, 2006
wth
hello! havent blog ytd haha.. coz the connection cnt.. anw ytd was lyk wth lah.. 3 tests in a row and within 2 periods.. but nvm.. im quite prepared which is lyk this 1st time im so prepared.. haha.. okay.. not really that prepared but i noe how to solve the questions lah.. lol.. and dunno wad's the problem with mr nassim.. keep coming into our class.. den say alot of crap which i dun really care.. haha..
now abt today.. lesson was so cool.. hehhs! geog was laughin lyk hell again.. -.-'' darn funny.. btw i forgot to say mark won the debate last time.. lol.. mrs chung was lyk talking to air.. nobody's listening to her and everybody was lyk falling asleep.. too bad lah.. her lessons seriously too boring le.. double maths lesson my head was so pain! all thanks to zhengrui.. he used my amaths textbook to hit my head.. it was pain throughout the maths lesson.. argh! combine humans.. LOL.. vivien say **** *** sms her den i was lyk spreading around and i told nicole abt it as well.. nicole was lyk suaning her and we were laughing lyk hell again.. hahaha!! she was so ma lu.. =X huijing and yeechi oso suaning her.. :D
anw end of sch le.. helped mr phua type things and den slack in the AVA for a few hours.. his com super lag and i still prefer my hse de com.. :) and den went tp with huiyun, yingying, huimin and michelle.. ate KFC and we sat there laugh again!

3rd time im laughing lyk hell..

hehhs.. cnt help it lah.. today lyk the laughing day.. lol.. huimin and *******..

JOKING!

:) yingying and huiyun still rmb that everytime i come tp

CONFIRM

will go NTUC but chocolates! hahaha.. chocolates so nice! den went home le.. waited for 166 for so long.. =X
i wont be blogging for the nxt few weeks until exams is over.. my laptop will be kept in other ppl de hse to prevent me frm using it and concentrate on my studies so yupyup.. :) byes!
❤JOEI!:D 8:16 PM
Wednesday, September 20, 2006
mr song still sucks
yayness! everyone is goin to the TLC club.. lol.. coz everyone thinks that they will fail today's physics test.. hahaha! okay im being lame but that's wad they said..

i still hate mr song though..
anw today

geog lesson so cool!

we are suppose to do a revision card but den we keep talking.. haha.. i was in a grp with vien, eling and mark.. eunice so poor ting.. hav to grp with USELESS ppl.. hahaha.. den eunice spell wrongly.. weathering become weathing.. LOL.. but nvm lah.. noe wad is it can le.. den when we do finish the work, we were so bored! vien and mark decided to hav a debate.. vien shall talk in chinese and mark shall talk in english.. haha.. and hongray was the judge.. the topic is

'is it right to hav underage sex?'

haha.. stupid ppl give stupid topic.. vien is opposing this question and mark is for this question.. so funny lah! haha.. shall not talk abt the details.. hehhs! :) and mrs chung walkin around and she keep scolding us.. haha.. but we didnt care abt her..

she sucks but mr song sucks even more

! :D
den 1st time leh.. i went home straight after sch coz i wanted to study for tmr's test.. tmr got 3 tests sia.. emaths, physics and english.. although english dun need to study but its still a test.. lol.. anw me and vien sat on the new bus today..

DARN SHIOK!

so spacious.. easier for

FAT

ppl lyk me! :)
anw i go study le! i will pass my exams and get lesser than 20 for L1R5 de!
❤JOEI!:D 2:31 PM
Tuesday, September 19, 2006
stupid teacher!
juz came back frm sch.. stupid nassim chase us out.. lol.. anw today's chinese was so darn funny lah! hahahah.. the bo li lao shi came in and talk to us coz we were too noisy which was lyk wth.. -.-'' LOL.. he say we were lyk bishan park dunno wad.. den cherie say

hou zi

! haha.. den he say why we so funny? zhengrui reply coz wo men kan dao

xiang jiao

! haha.. den he tot we were sec 2.. wth? pls lor.. ppl wearing long pants leh.. haha!

BLIND

!
amaths test and chinese test! ARGH!! gonna flunk both of it.. dunno how to do arh! the stupid chinese i look at the 1st page alrd dunno how to do liao.. lol.. nvm lah.. amaths! i forgot how to do change the base of log.. and i revised it in chinese lesson.. haha.. suan le lah.. over jiu over liao lo.. :)
anw we were actually suppose to hav our amaths test during PC period but mr song opposed.. he wanted to do physics.. not everybody in our class hav physics under him lor.. and some dun even take physics..

NO BRAINS

! and he dun even noe we hav physics common test tmr and wanted to hav his own class test.. the other teachers noe how come he dunno?!?!

wtF lah! I REALLY CNT STAND HIM SIA!
MR SONG SUCKS AND I HATE HIM!
❤JOEI!:D 4:43 PM
Monday, September 18, 2006
stupid asshole!
I HATE MR SONG! he juz suck can? juz cant stand his face..

ARGH!

ppl talk to him ignore him.. den anyhow put ppl into dunno wad TLC club.. SAI lor! okay.. nvm.. forget abt tis..
after sch went to find mdm foong abt the CCA ting.. but we stood there for so long but she treated us as invisibles.. wtF lah.. den after she help us, we walk away she call us back.. why she can see us go away cnt see us standing there? then den say we hav no basic courtesy.. pls lah! she herself hav no courtesy how can she expect us to hav? we stood there so long waiting for her but she didnt say a word sry so why do we hav to respect her by saying thankyou?!?! hate this kind of teachers!
anw i noe wad's the meaning of being left out alrd.. huiyun, i can understand how you felt alrd.. will not leave you out nxt time.. promise.. 5 ppl in this room.. person A,B,C,D,E.. A goes with B.. C goes with D.. E sits alone down there.. A,B,C and D treated E as invisible.. and im the E.. so sad rite? actually wanted to juz run out of the room since im the odd one out.. haix.. =(
❤JOEI!:D 6:06 PM
Sunday, September 17, 2006
consanance!
in the morning went to bishan library to study with huiyun, yingying, rongxuan, zhengrui and hongguang.. yupyup.. actually didnt study much lah.. we juz did our hw den go home put books and meet again.. hahaha.. but i ate mos b4 goin home.. lol.. actually wanted to borrow some books but den lazy carry.. and the stupid naggy president slap me!

i HATE him! and tan hongguang! TWO BIG BULLIES!

and wingyan came to join us for awhile and went.. den came back again and we ate dinner.. haha..
hweizhong came to meet us and we went for the concert.. yup.. when we were walking to the concert hall, we tot the view was nice so i took it down..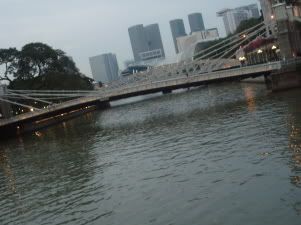 bridge and esplande!
fullerton hotel! :)
my back view! and im wearing zhengrui's hat :)
our back views :D
the concert was nice.. there was this guy who is so funny lah.. eyes open so big and we were lyk laughing at him all the time.. haha.. wanted to take a photo of him but couldnt coz not very clear.. and there was oso another guy who is so

SHUAI!

omg! he's really

SHUAI

can? lol.. dun believe ask yingying coz she thinks he's shuai too! :) anw after the concert we went to the toilet.. there was this guy outside who wanted to off the lights but i didnt noe abt it.. huimin knows.. haha.. den he off.. i was so shocked that i scream so loudly! hahaha.. den actually yingying not scare de den i scream until she scare.. i hit rongxuan.. lol.. sry.. coz i didnt noe that it was someone who off the lights.. hehhs!
our reflections! took this photo b4 i screamed.. -.-''
den we went out of the toilet.. hahaha.. slacked outside the concert hall for dunno how long b4 we went off.. anw when we were outside, we took photos again.. haha..
me and niang..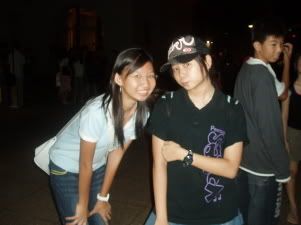 me and yun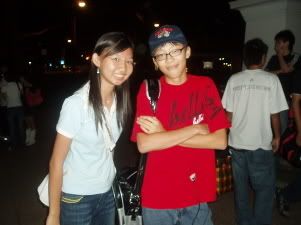 me and the stupid naggy president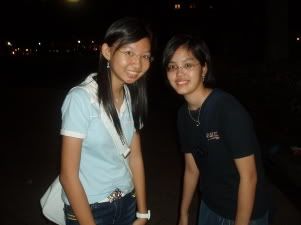 me and xuans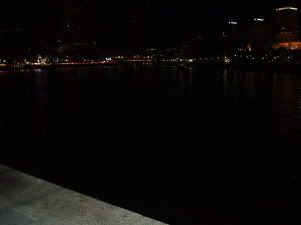 clarke quay! nice view..
den hungry le! went to mac to eat and we went home.. haha.. and i hav two bodyguards.. hahaha..
btw at the concert, there was this guy who proposed to a girl in front of the audience.. so darn brave lah.. haha.. :)
❤JOEI!:D 12:16 AM
Friday, September 15, 2006
nice weather!
time check: 7.25 i woke up at that time and i slept at 5 plus.. hahaha..
sian lah..

sch SUCKS

and i seriously hate it! sae got attire check den in the end dun hav.. dunno wth they thinking.. anw today PE was fun! i played volleyball with vien, cherie, alexis and quanyin.. haha.. quanyin was so funny.. alexis created a dance and story for her.. laughed lyk siao! haha.. luckily its not rainin during PE.. heng sia! i couldnt find my history file! die le lah.. sad.. =(
its rainin the whole and the weather is so cold..

i juz hate rainin days when im outside but i love rainin days when im at home! :)

coz so nice to slp and i did slept.. hahaha.. coz i seldom slp de.. lol..
today is such a boring day that i hav nth to write le.. lol..
❤JOEI!:D 10:29 PM
Thursday, September 14, 2006
SLEPPY
YO! firstly i would lyk yo wish yeshen happy birthday.. and i hit him 14 times.. :)
HAPPY BIRTHDAY YESHEN!
dunno why this few days in sch super tired.. wanted to slp in every lesson.. haha.. but i controlled myself.. today we got the news tat yellow old shit fell down and the side of the stairs hit her ribcage.. wth lah.. very poor ting leh.. on teacher's day somemore.. haix.. okay i shant call her yellow old shit le.. i shall call her huang lao shi.. LOL.. chemistry lesson today was fun! we went to com lab.. everyone was lyk ignoring her so i pity her.. haha.. we went to msn and listened to songs and go friendster.. hahahah! and i cnt sign in my msn.. argh! but nvm.. did sign in in the end.. hahaha.. i love tat chemistry lesson! after sch mr ang made yingying stay back because she couldnt sae one of the rules of the circle.. darn stupid lah.. haha..
anw this post shall not be long.. haha.. bye! :D
❤JOEI!:D 6:23 PM
Wednesday, September 13, 2006
funny lesson
haix.. school always so boring.. but today's english lesson was fun! mr phua talked abt his family and blah blah blah.. haha.. anw i juz hate mr song.. forever draggin our time and not letting us off on time.. and its the last period of the day.. i was so looking forward to it but haix.. lol.. okay nvm.. haha..
school ended! yay! and we went to pei huimin and yingying do specs.. in the end yingying nvr do but she wore her new specs which she did months ago.. lol.. FINALLY she wore it and look so funny in it.. den after that went to fairprice with huiyun, huimin, yingying, wingyan and meiting coz meiting and wingyan wanteed to buy the ingredients for their ipw presentation tmr..

good luck! :)
yupyup.. end here bah.. tatas!
❤JOEI!:D 7:42 PM
Tuesday, September 12, 2006
finally its over!
juz came back frm sch.. :) anw sch is always so

BORING

! argh! okay lah.. start of the day yellow old shit didnt come again! WOOOOOOOTS! hahaha.. had free period and we were in the atrium.. practiced the IPW skit coz its the presentation in the afternoon and we not prepared.. hahaha.. okay lah.. nxt up, PHYSICS! the worst period of all.. and got lab experience.. dunno wth he thinking lor.. everytime drag into the nxt period.. he can drag into nxt period we cnt eat into his period.. wtF lah.. SELFISH! okay.. forget abt it.. wah sian.. mr pillai is gone so that ms wong tot us again.. her lessons sucks! i still prefer mr pillai..

MR PILLAI PLS COME BACK!

haha.. anw chemistry.. my eyes closing soon.. haix.. but cnt slp! finally

LAST PERIOD OF THE DAY!

:) emaths.. okay lah.. and ms ng wore the pendant me, vien and xiao quan gave to her on teachers day.. lol.. PC.. see his stupid face again.. cant stand him man! why do we hav such a form after teacher? my eyes really closed while watching the video clip.. no choice lah.. seriously too tired..
the time has come! IPW presentation.. OMG! i havent memorise my lines and we were lyk keep repeating huijing's line coz she only got one line which is lyk so easy but she hav to act the most.. yupyup.. we went in.. saw the judges and my mind went blank.. wth.. say until half

i forgot my lines

.. thank goodness still got yeechi.. she help me.. ty yeechi! :DD yup.. and its over! weeeeeeeeeeeeeeeeeeeee~ its so funny lah.. kept laughing.. HAHAHAH! no choice.. really funny.. and den they gave their comments which is okay lah.. hope we did well..
den dunno why got three stupid guys waiting for me for dunno wad reason? i didnt say i wan to go.. lol.. but nvm.. is they wait not i wait so i cant be bothered as well.. :) den went to slack in the jcrc rm as usual and the stupid bitch ask us to go home which was lyk wth.. stay inside 'study' oso cnt.. need go home.. -.-'' haha.. nvm.. over le..
okay.. stop here.. hope tmr is a fun day but i noe its not gonna fun coz sch is

NVR

fun..
❤JOEI!:D 6:34 PM
Monday, September 11, 2006
happy birthday huimin!
hello! firstly would lyk to wish huimin happy birthday!
HAPPY BIRTHDAY HUIMIN! :)
10.9.06..
uhm.. went for the stupid concert whih is lyk so boring lah.. you seriously can fall asleep sia.. lol.. anw when we reach there. its was so cold and everybody freezing.. lol.. coz rainin ma.. hahah.. almost fell asleep during the concert coz with the air-con and the songs they singing really a very nice place for you to slp.. hehhs! after that went back to sch.. dunno why the

stupid president

so big card.. one day after his birthday still got ppl celebrate birthday for him.. lol.. after that went to J8 wid huiyun, rongxuan, hongguang, zhengrui, anthony and vincent for dinner.. yupyup.. ate yoshi.. okay lah.. coz i dun really lyk yoshi.. =X and went back home early coz nxt day sch re-opens! hate it!
now abt today.. haha.. the 1st ting i went to sch is got my

exam timetable!

wth lah.. starting so fast.. this is the timetable..
28.9 english paper 1 and 2
29.9 mother tongue paper 1 and 2
5.10 social studies paper
9.10 geography paper 2
10.10 maths paper 1 and history paper
11.10 additional maths paper and physics paper
12.10 chemistry paper
13.10 maths paper 2 and geography paper 1
yupyup.. that's my timetable.. lol.. den the yellow old shit did not come to sch today! wooots! was so happy.. haha.. den came physics.. everyone was expecting that we wont hav recess today but he let us off on time which is lyk so unbelievable.. haha.. but it did happen and it happened alrd.. :) yay! den we went to celebrate

huimin's birthday

! weeeee~ she was so shocked that we gave her her present.. lol.. and there were lots of food! yum yum.. but den we coudnt finish coz recess time so short! yup and we rush off for lessons.. den english.. we needed to so smth on zombie.. and listened to a song which was noisy.. haha.. after sch went to POSB bank wid shangchuan and kahhwa coz shangchuan need to do a replacement for his card.. haha.. and im now at shangchuan's hse

updating my blog! :)
so i shall end here.. haha.. yupyup.. tatas!
❤JOEI!:D 5:59 PM
Sunday, September 10, 2006
happy birthday
hello everyone! hahaha.. didnt update ytd coz nth much happened.. i juz went to huijing's hse to do the IPW ting.. lol.. anw yeechi and huijing actually believed wad vien said.. i shant say what is it.. hahaha.. its so funny lah! lol.. okay that's all abt it.. i would to wish the choir's dumb president happy birthday..
HAPPY BIRTHDAY ZHENGRUI!
will update more when i come back frm the dunno wad concert.. haha.. cya! :)
❤JOEI!:D 10:38 AM
Friday, September 08, 2006
HER!
im super pissed right now..
wad the hell is her problem man? ppl walking wid some other plp doesnt mean that im goin rite? im juz goin to eat and wad's wrong wid it? everybody has to eat including urself! pls dun keep asuming things and thinking that im bluffing every single time.. which is lyk so unreasonable lah.. i admit im oso at fault at times but that doesnt mean im cheating you.. plz lah.. change ur way of thinking can? stop thinkin that you are right everytime.. everybody has their own plans and they can change it juz because of you

rite? ARGH!
im still very pissed! why cant she juz understand ppl who got their own plans.. okay.. i dun blame her for that.. wad about walking wid some other frens.. we are juz goin for lunch and its not wad you tink.. pls find out the truth b4 you sae anything..
❤JOEI!:D 6:56 PM
Thursday, September 07, 2006
singapore dreaming
juz came back frm a movie.. singapore dreaming.. haha.. okay.. let's start frm the beginning of the day..
AGAIN, woke up super early in the morning juz to go to sch for the remedial.. so sian lah.. and i was SO sleepy.. haha.. den after that went to J8 wid huiyun which is lyk my 5th time to J8 this week.. continously.. starting frm sunday.. lol.. anw den i went home.. too tired le so i go slp.. wth lah.. i told myself to wake up at 3 but i woke up at 3.45 when i need to reach plaza sing by 4.. haha.. when i reach the mrt station, MOST of the ppl there le, which includes, huiyun, yingying, wingyan, rongxuan, huimin, hongguang, roy and sebas.. LOL.. den faster rush up buy the tickets for SINGAPORE DREAMING..
went into the cinema.. the movie was quite sad.. lol.. but nice.. anw the movie anyhow teach ppl vuglarities and the word is

'FUCK YO

U'

.. the show really got this.. not kidding.. hahaha.. dun believe ask those who hav watched it.. hehhs! after that went to eat dinner.. though i wasnt that hungry.. haha.. den i had to go home le.. so sad.. den yingying, rongxuan and huimin went to shop.. oh yah.. after the movie huiyun rush to mediacrop to watch singapore idol le.. lol.. den hongguang got new phone.. wth lah! anw we found that the birthdays of our phones got link de.. lol.. mine is

9.7.06..

his is

7.9.06..

can see the link? lol.. okay im being lame here.. -.-''
btw roy wore this shirt which is lyk opposing my blog 'nothing is perfect in this world' so i decided to take a picture of it.. lol..
impossible is nothing..
stop here le lah.. go do hw.. no.. is COPY hw le.. tatas! :)
❤JOEI!:D 10:26 PM
Wednesday, September 06, 2006
funday! :)
haix..

holiday=no holiday

sia.. still need go back for remedial.. haha..
in the morning went for amaths remedial.. need to wake up so early lor.. when i want to slp.. hahaha.. den in class everybody were lyk complaining hungry.. guess they nvr eat breakfast bah..
after that went to TP wid tracy, huiyun, valery and emily.. hahaha.. we were lyk walking around TP and deciding on wad to eat.. al last we decided to eat KFC.. lol.. den me and tracy were lyk planning smth but it did not succeed.. sad.. =( nvm.. tracy, we will succeed one day.. hahaha!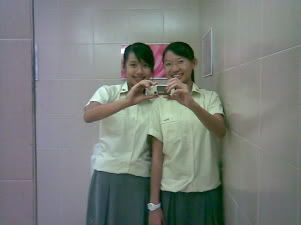 tracy and me in the toilet..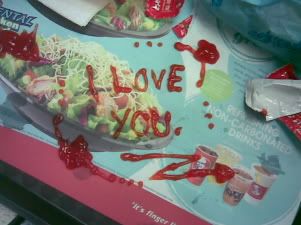 out of boredom huiyun drew tis.. not i draw de.. haha..
after that me and huiyun went to the bus stop to wait for wingyan and yingying.. it was still early.. hahaha.. and guess wad.. we waited for almost an hour.. -.-'' hahaha.. but nvm lah.. lol.. after that went to TPC.. coz i need help me sister find ting.. lol.. we go walk walk.. we walk until the fairprice at the other side of TPC.. lol.. den since nth do.. take photos.. -.-''
our shadows :)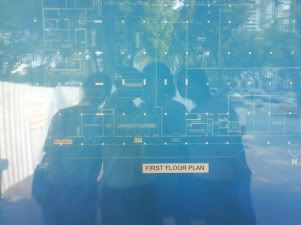 can see us? lol..
after that nth to do again.. so took 88 and went J8.. hahaha.. den hy bought a skirt! :) since yingying and wingyan havent go bishan library yet, we decided to go there.. anw i oso dun mind coz i love that library.. so COOL! hahaha.. we sat there and took photos again.. darn diao lah.. hahaha.. den we met yeshen.. he admited his not a guy.. sadsad.. hahaha.. that sentence did came out of his mouth hor.. lol..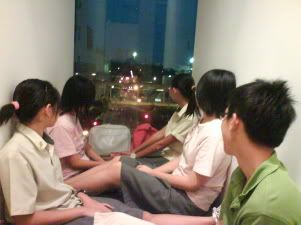 our backs! hahaha.. :D
anw that's abt it lah.. nth much.. hahaha.. and i love my dinner today! CURRY CHICKEN! :DDDDD
❤JOEI!:D 11:27 PM
Tuesday, September 05, 2006
went for health check-up today.. haix.. my degree of my backbone went up again.. sian lah.. keep goin up.. hahaha.. after the check-up went to J8.. den my mother ask my sister bring my sister go J8 hav lunch.. haha.. yupyup.. den after that need bring my youngest sister for tuition.. and she was late.. not my prob, coz not my tuition.. hahaha! joking.. :)
den went home.. after tat i went out again.. i went to meet yingying, meiting, wingyan, rongxuan and huimin den went far east buy belt.. the crown belt.. hahaha! den after that go walk walk..luckily today wingyan dun hav the shopping mood if not we die arh! moral of the story is,

dun go out wid wingyan on weekends..

haha.. den we keep looking at earrings, belts, necklaces and braclets.. dunno.. hahaha.. den the 6 of us bought a friendship ring.. so cool.. purple colour.. hehhs! anw we talk alot coz we hav the same topic to share.. :)
our rings! :)
okay.. this post shall not be long coz im lazy! hahaha..
❤JOEI!:D 7:46 PM
Monday, September 04, 2006
mark's hse
woke up in the morning and went to mark's hse to do the maths project.. his hse darn big and nice can? how i wish i got a hse lyk tat.. hahaha.. when i step into his hse i was lyk 'wow'.. veri nice.. hahaha.. his toilet oso veri big and nice.. wth lah.. even his toilet can compare with my whole hse and it will be much more nicer.. lol..
we started doing the ting.. haha.. and actually it was quite easy coz it was alrd planned.. made
some mistakes here and there but nvm.. haha.. had to tink of ways to cover it.. lol.. but overall its quite nice.. im not being bhb here.. its our hardwork.. :) we did it quite fast leh.. it wasnt that long.. hehhs! den still quite early and while we waited for our lunch, me and vien online.. haha.. tok crap with those who were online.. finally lunch is served! i was so darn hungry.. when i went down, his dog was there and it came nearer and nearer.. so scary sia.. coz im scared of dogs.. =X anw the lunch was nice.. :)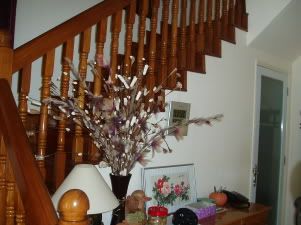 stairs! cool sia..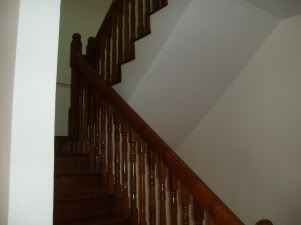 another stairs leading frm the 2nd floor to the 3rd floor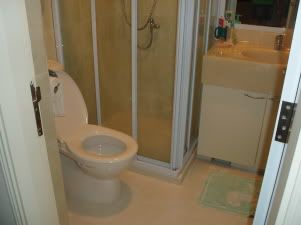 the toilet near his kitchen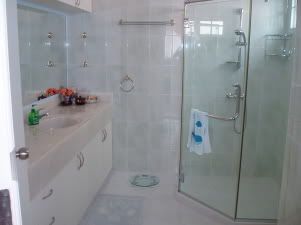 the toilet in his study room.. (the biggest toilet in his hse :))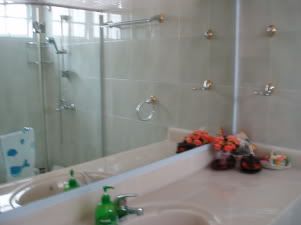 big mirror sia..
the place where it's use for bathing with our bags inside.. -.-''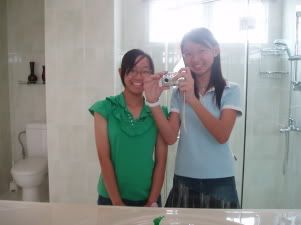 vien and me, our reflections!

the window of his study room
after tat went to plaza sing to catch a show with vien.. the devil wears a prada.. we were fighting on which show to watch.. haha.. den in the end watch tis.. anw it was a nice show.. funny.. hahaha.. i dun mind watching it again.. :) watch le den nth to do so went home.. den i went to J8 again to meet up with hongguang and sebas and huiyun.. walk around.. den went to eat.. long john's.. hahaha.. since the bishan library alrd opened and we havent go in b4, went to take a look.. so nice lah.. very cold as well coz its raining outside.. -.-'' den very cool.. got small little rooms pertruding.. and went to sit in it.. veri shiok.. we sat at the 4th floor..
the view looking down frm one of the small room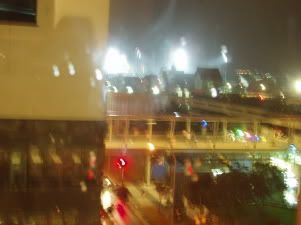 another view..
anw shall end here.. bye! :)
❤JOEI!:D 9:25 PM
Sunday, September 03, 2006
tiring day
juz came back frm SHOPPING and CIP..
woke at 9am.. omg and i need reach j8 by 9.30.. hahaha.. but in the end i'm still the earliest.. hehhs! den i tink is for the zoo need bring one stupid tin walk around.. after taking the tin, go eat breakfast first! the most impt meal of the day.. :) hahaha.. went bugis.. peiqin's good idea.. oh well.. we went.. hahaha..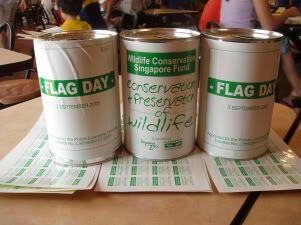 our tins! :)
while waiting for the train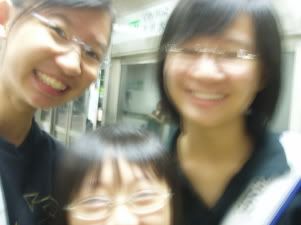 the 3 of us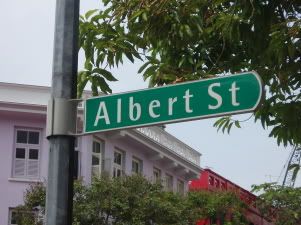 our 1st stop and the only stop.. -.-''
started off badly.. wth lah.. keep tio ject.. and i hate the feeling.. now i noe.. nxt time when ppl ask you donate

PLZ DUN JECT THEM!

hahaha.. got some ppl very generous.. donate $5 den some $2.. some donate coins BUT at least they have the heart to donate.. some arh.. juz walk away without looking at you saying 'no,thank you'.. and i've repeated the same sentence for dunno how many times.. 'excuse me, would you lyk to donate?' sae until i die of thirst.. lol..
anw finally it ended and wingyan came to meet up wid us.. went back to bishan cc return the tins and den went J8.. finally can SIT! weeeeeeeeeee~ den after somehow wingyan wanted to shop.. 1st time i stayed in J8 so long SHOPPING! frm 3 plus to 7 plus.. i bought a pendent.. same as wingyan.. den after tat yingying oso buy.. hahaha.. which means that the three of us hav the same pendent.. hehhs..
woah.. my leg super tired den wingyan still dun wan go home.. yingying de leg oso super tired.. we stood frm 10am in the morning.. hahaha.. anw i saw alot of tings i wan sia!
shorts frm seiyu

skirt frm seiyu

shirt frm dano

belt frm ice lemon tee

necklace frm seiyu

shirt frm purpur

skirt frm newbie
yupyup.. tat's it bah.. alot sia.. hahaha.. okay okay.. shall end here.. tatas!
❤JOEI!:D 8:29 PM
Saturday, September 02, 2006
boring day!
a saturday night.. i have been rotting the whole day at home.. hahaha.. luckily got my com if not im SERIOUS rotting! hahaha.. online.. yingying entertained me :) coz we are both bored.. hehhs! anw i wanna wish wingyan and liting happy birthday though its too late.. but nvm.. its the thought that counts mah.. :)
HAPPY BIRTHDAY WINGYAN!
HAPPY BIRTHDAY LITING!
went to wingyan's hse celebrate her brithday on her birthday night but sad i cant stay over..went to the function to watch dunno wad show lah.. den we wanted to give wingyan a surprise coz she nvr go buy cake.. me and tracy went all the way to the market there buy cake.. and had to use some stupid reasons to avoid wingyan knowing.. :) hahaha.. wingyan dun lyk chocolate cake but sad no fruit cake so had to make it wid chocolate cake.. she was surprised! yay! hahaha.. yupyup.. wingyan you better repay me and tracy.. hahaha.. and then i ate the fried rice! YUM! so darn nice sia! nicer den my mother de.. hahaha.. den after that eat and eat and eat.. soon i'll be a big fat pig! continued to watch the show.. ALMOST everyone watch until slp.. hahaha.. yup.. den late le.. went back to wingyan's hse.. wingyan opened her presents and den we went home..

ty tracy for ride home :)

sad i cant stay over.. bet they all enjoyed their stayover
❤JOEI!:D 9:55 PM
Friday, September 01, 2006
my 1st post! :)
this is my first post! :) im so proud of myself! joking.. hahaha.. anw since this is the first post, it shant be long so tatas!
❤JOEI!:D 1:11 PM