Tuesday, April 29, 2008
VIVO! :D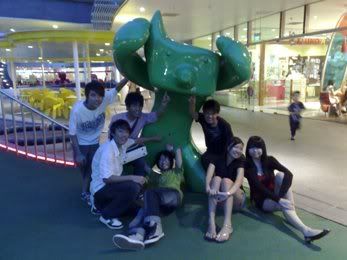 HEYY!
Guess where i went today? VIVO! :D 2 lectures were cancelled today so our lessons ended and so Huitian decided we go Vivo. Haha. Slacked ard in the lib after lunch and off we go!(: Took the train to Vivo. Arianto didnt wan to go at first but i dragged him into the train. Haha. He had no choice but to tag along. Teehee. Went to find Huitian's ex-colleagues and we started walking ard. Wanted to catch a movie but forgo that idea): But nevertheless we still had hell lots of fun! HAHA.
Went to the arcade. Looking at them play is alrd entertainment. Den we went to play pool. This is the time when we all were laughing lyk hell after eating chocolates frm Candy Empire. LOL. Played. Antonio got the black ball in for his 1st play and he owes us bubble tea! Hehhs. Den me and Huitian joined in after that. So funny. I teamed up with Jarryl and Huitian teams up with Antonio. Play play play. Left the last black ball. They said,'' Let the 2 of them play lah." Okay so we played. You noe how long we took to make the black ball go in! More than 5 min! Lol. And Jarryl, WE WON! Lol. Then after that came the anyhow play. Well, i kept saying cnt go in one lah. But tyco tyco went in one. Haha. Better than nth okayy? Lol. And our white ball keeps going in. So dumb. Lol. Jarryl complains that we always give him some kind of shitty ball and he dunno how to play. Lol. Junwei one try is good the other will be bad. Haha. Arianto steady lor. Still say he cnt play. Joel tyco tyco the balls keep going in. Antonio can play oso keep saying that he cnt play. Haha. Huitian keep letting the ball jump but in the end she can play alrd! :D
HAHA. Its super fun. I dont wan elaborate alrd. Very tiring. After that we went to the playgorund. And we were deprived of childhood. Lol. Roll down the hill and Huitian and I were playing. SO FUN SO FUN! Until we saw the sign that the playground is for age 12 and below, we went off. Haha. Ate at Long John's, Huitian and i asked Arianto this qn," So how? Got regret coming with us?" You noe wad his reply was?! I wanted to come with ur in the 1st place ma. WTH. Stupid asshole. Haha.
Yupyup. Huitian and Jarryl left us and took bus while the rest took train. We walked to the corner and i ask them why they lyk to go one corner. They say coz for guys ma. Den i walked away. LOL
And so im back here blogging((: I tink you have survived reading the whole post you are pro. Lol.
Okay gtg. Byebye. :D
Im seriously a big big fool.
❤JOEI!:D 10:13 PM
Monday, April 28, 2008
:D:D:D
HELLO!
Back with the photos on 25/04((: Haha. Had Design Fundamentals in the morning. 3 hour lesson. Haha. Den i went out with Rongxuan in the afternoon and i took her round NYP. Lol.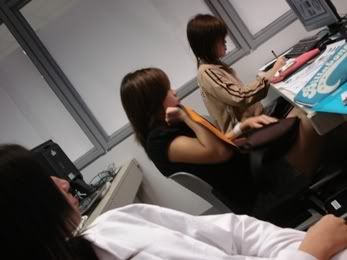 Huitian randomly taking photos again-.-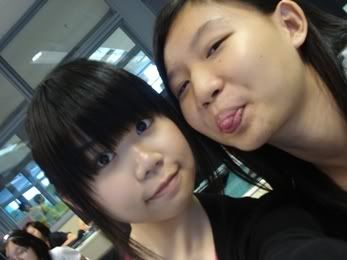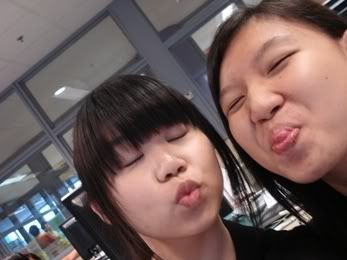 :D:D:D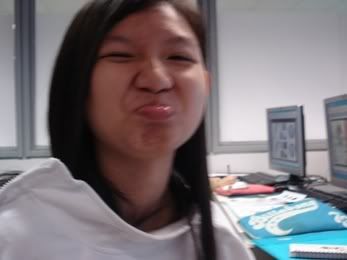 UGLY! LOL.
((: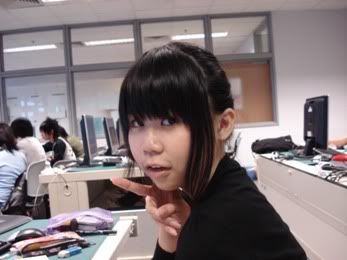 My dear Huitian. Haha.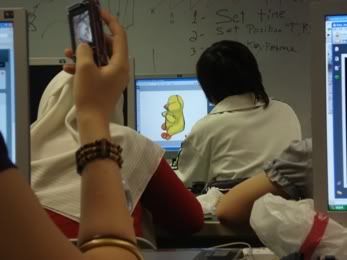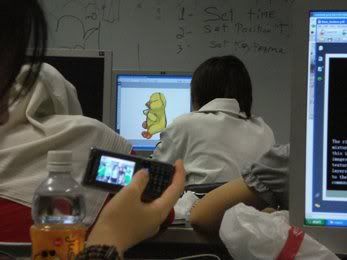 Dominique drawing his duck!(: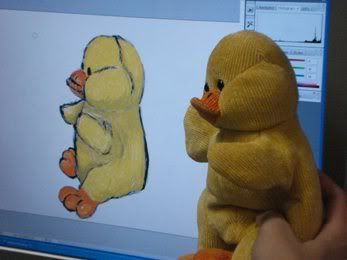 Looks alike. Pro. LOL.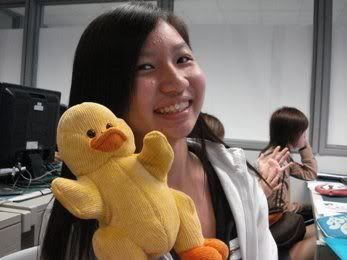 See how cute the duck is :D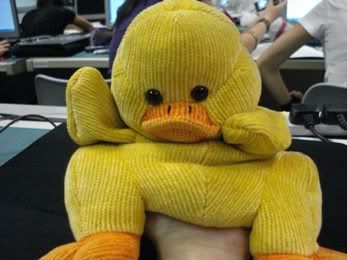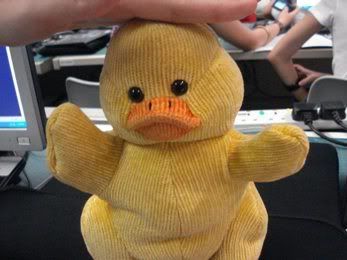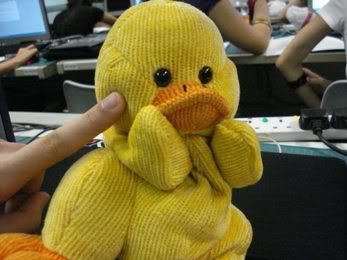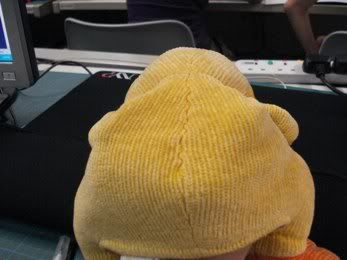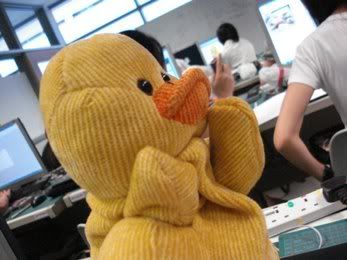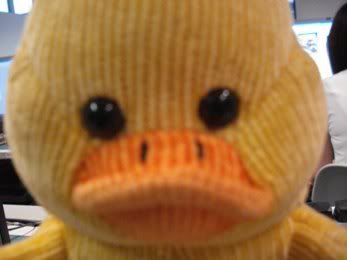 We were definitely obessed with that duck. HAHA.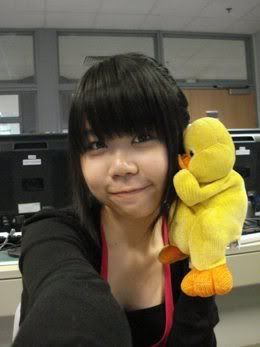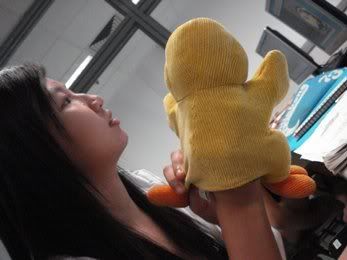 Teehee :D
Rongxuan wanted evidence that she came to NYP and we ended up taking photos in the toilet. LOL.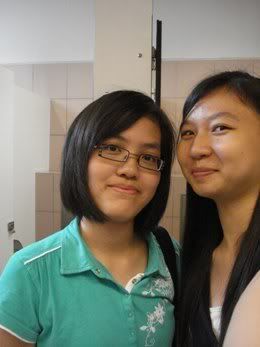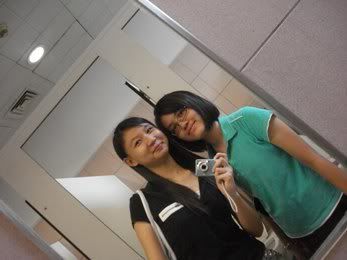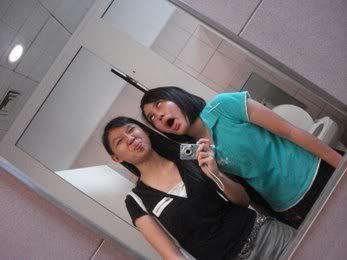 Luckily no one came in at that point of time. HAHA.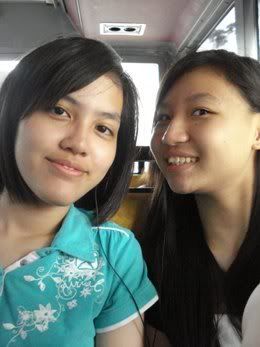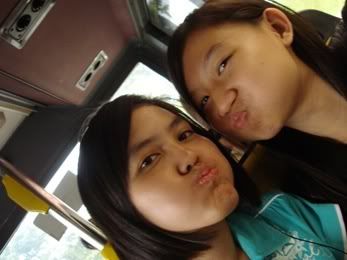 On our way to Taka. Coz i needed to buy my paint at Art Friend but they dont have the stock! :/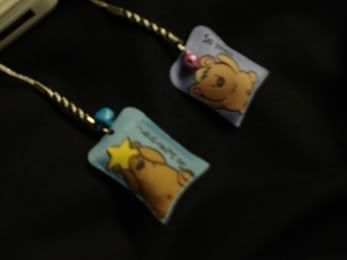 Guess which is mine?(: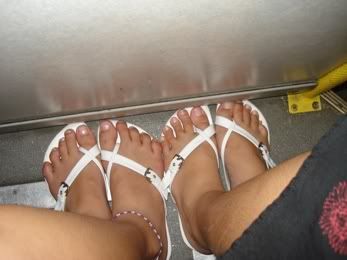 We do love long bus rides. Lol.
Okay no more(: Im off to doing my assignments): I hate colour theory lessons. As if we cant see the colours and they wanted us to do different shades. I spent dunno how many hours doing that freaking assignment); Wasting my time. Lol. There's drawing lesson tmr and its starts at 8!)): Another boring thing.
Anw gtg. Byeeeeeeeeeeeeeeeeeeeeeeeeeeeeeeeee :DD
❤JOEI!:D 8:26 PM
Friday, April 25, 2008
photos! cosplay((:
HEYY!

Im back here to update again. Haha.
240408-Cosplay((:

Had cosplay ytd. Was fun though im not really interested in it. Haha. Took hell loads of photos. And thanks to Huitian, that's why my camera has so much photos. Was lucky that i charged the batt the night before. Lol. Huitian was juz clicking away with my camera-.-Yupyup. Many many photos! :DD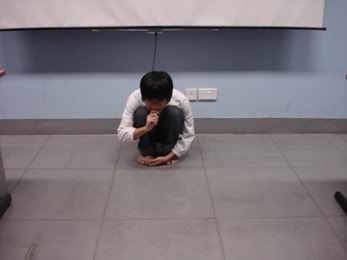 L No.1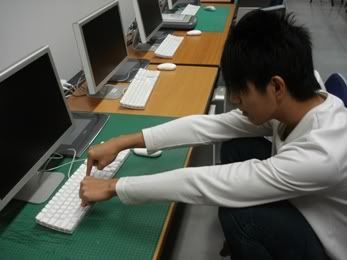 L No.2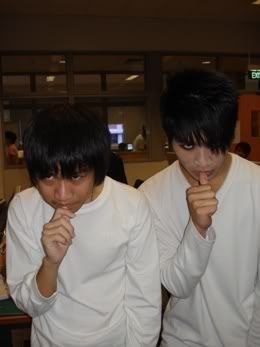 Big and small version of L. HAHA.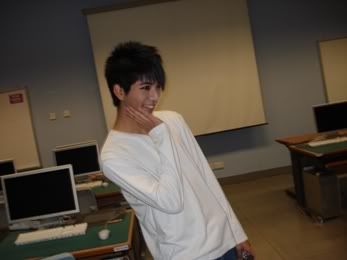 Trying to act gu niang laah.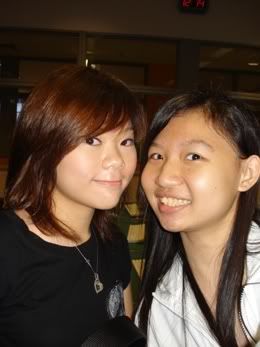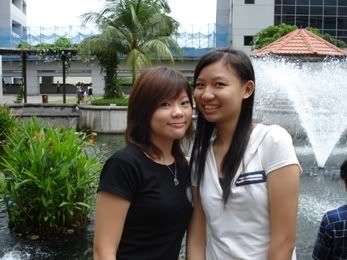 This is Minghui! :DD


Huitian! :DD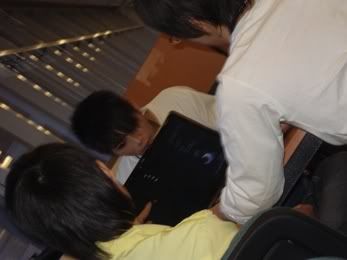 Out of boredom the girl took this photo-.-


((: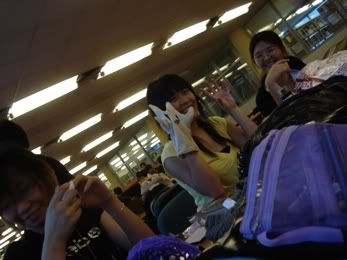 Rongxin Rongxin(((: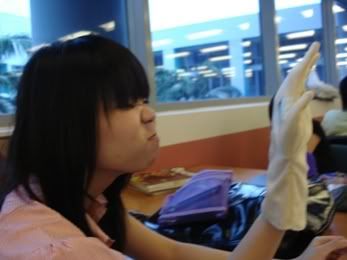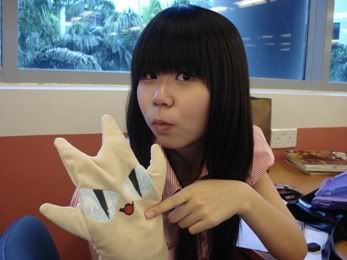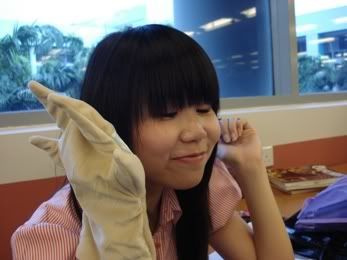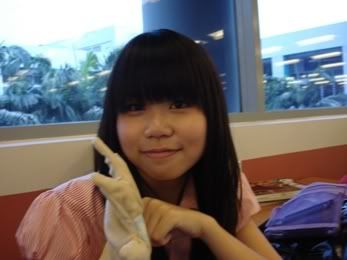 Huitian and her 5 shots with Shan's doll. LOL.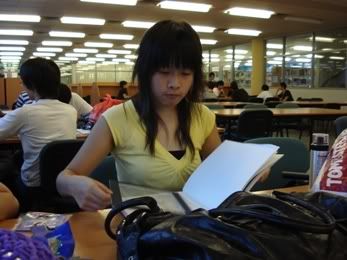 Rongxin. Dunno wad is she doing. Haha.


I dunno wad im doing either. Lol.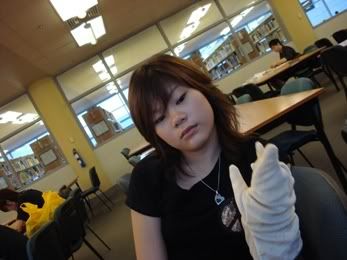 Minghui and the doll((:


This is Sam sam.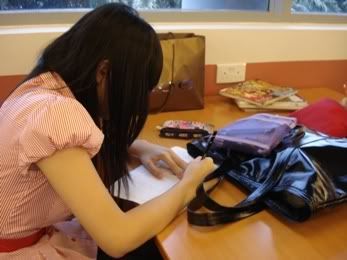 Trying to act hardworking lah.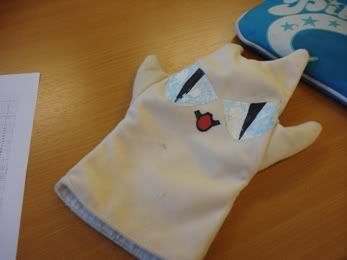 :D


LALA..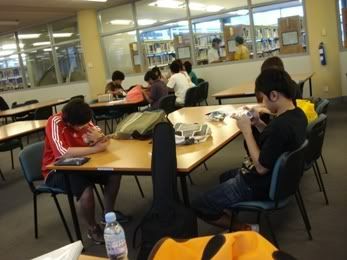 Anti social grp. hahaha.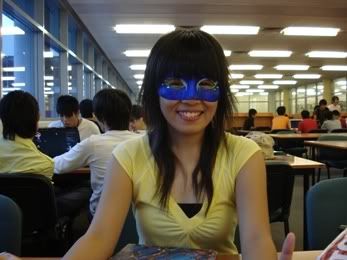 Rongxin with Sam's mask!(: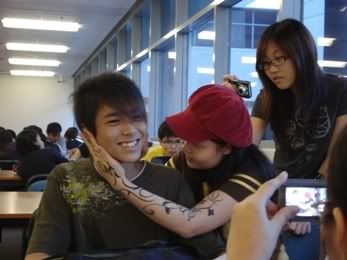 Huiyu's drawing a 'tatoo' on Ari's neck luh. Dont anyhow think. LOLLOL.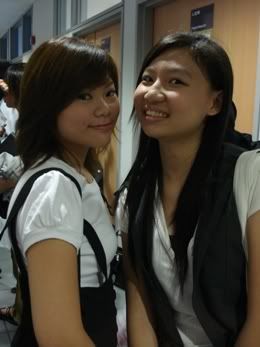 Minghui again.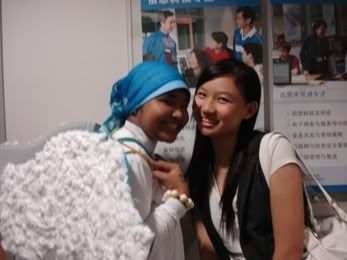 Teng Teng with her wings. Hehheh.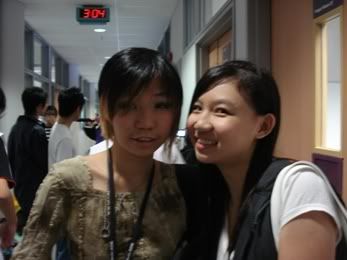 Ah sammmmmm.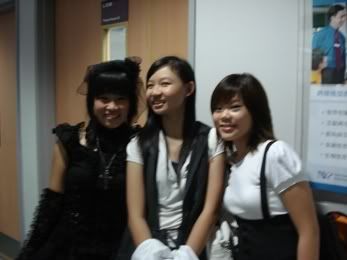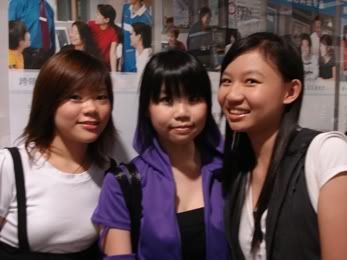 :D:D:D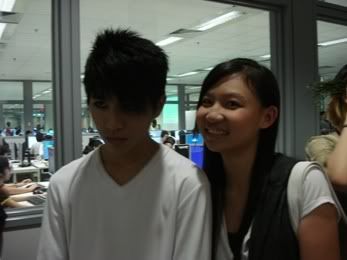 JoelLAM. Lol.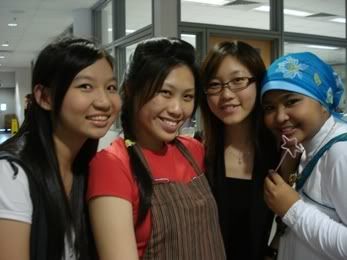 Michelle1 and Michelle2 + Tengku!(: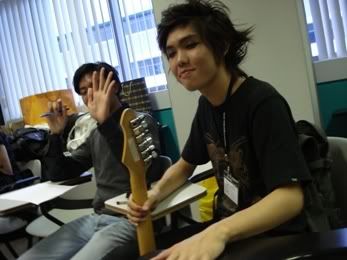 Unglam shots of the 2 of them. Lol.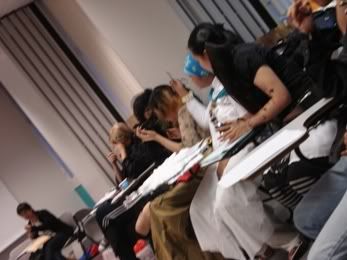 Rdm shots. Haha.


-.-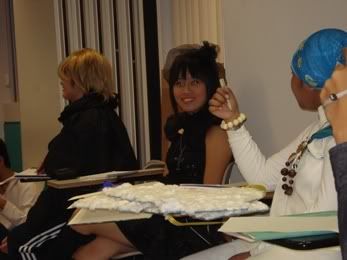 Rongxin looks so cute. Haha.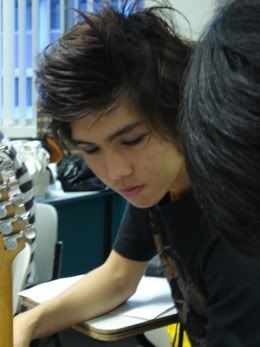 Huitian says Dominique looks cool and nice in this photo. Haha. With his eyes closed-.-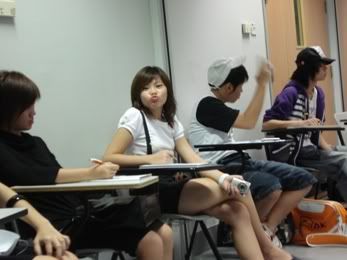 Mingminghuihui(:


rdm rdm...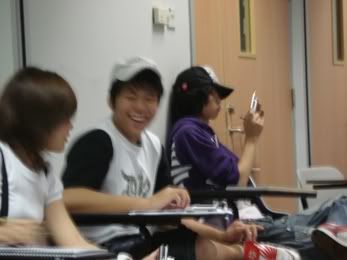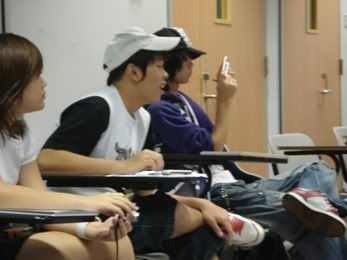 Shiyi. LOL.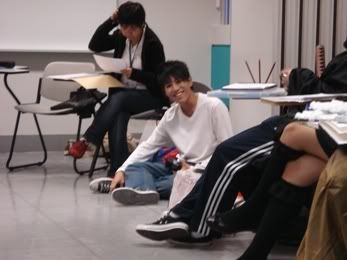 Joel.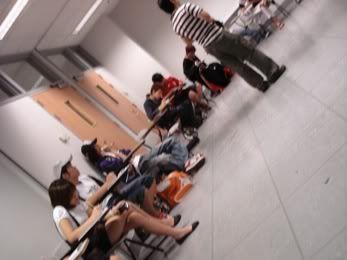 rdm againnnnnnnnnnnnnnnnnnnn.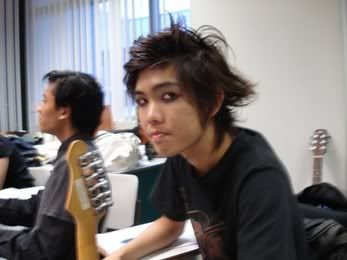 Looks so fierce. Haha.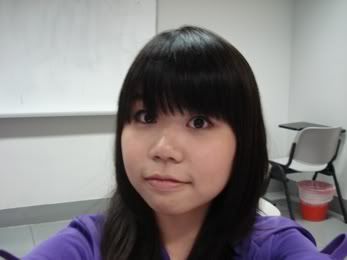 She's zilian-ing. Lol.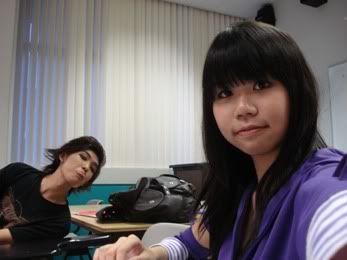 Dominique at the back doing stupid faces. Hahaha.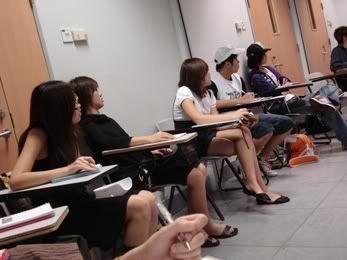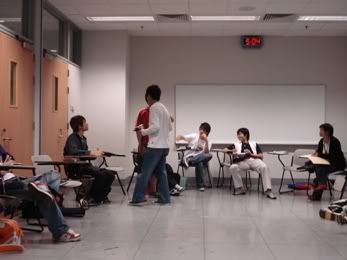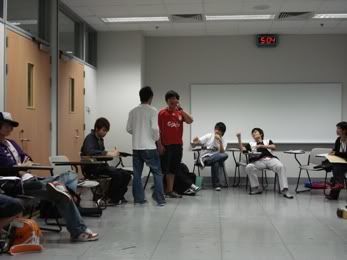 ...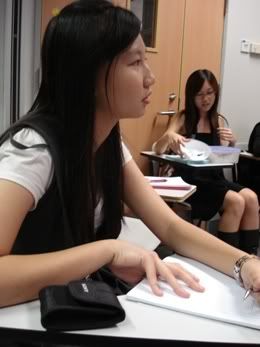 Hahaha((:


Minghui trying to take a pic of Huitian and Huitian's trying to take a pic of Minghui. LOL.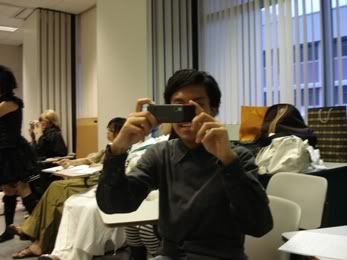 Same goes to Rasedee. Haha.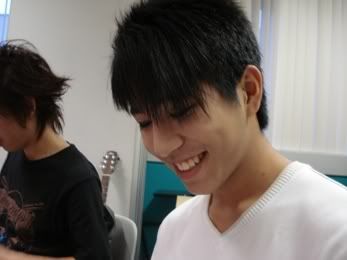 Huitian says he's shuai in this photo-,-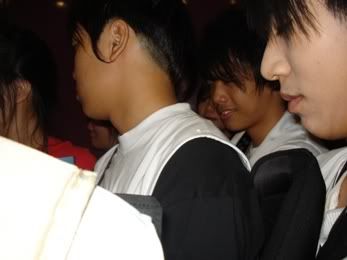 In the lift and we were late for our lecture! Teehee.


I like the effect. Lol.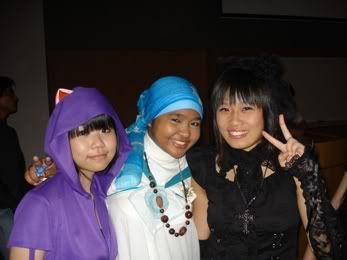 Huitian Tengku and Rongxin!(: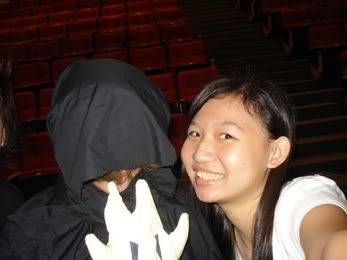 Shan!


Rasedee. Joker. Haha.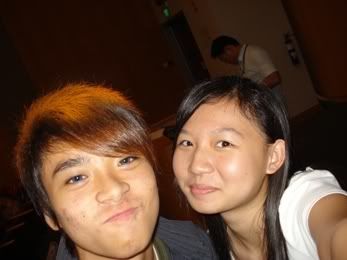 Arianto.


Shiyi.


Jaryl.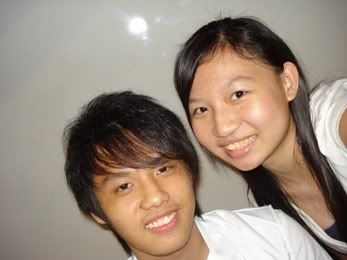 Junwei. We will always have entertainment when Huitian and Joel are ard. Lol.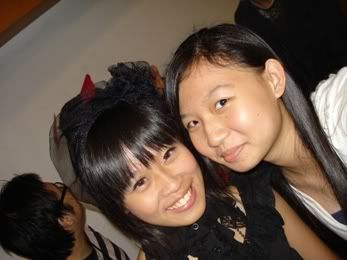 Rongxin!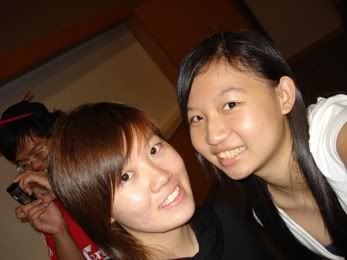 Hweelee.


Huitian, Sam and Joei! :D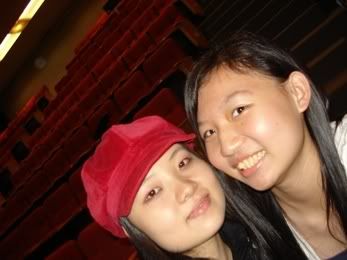 Huiyu!


:D:D


Joel.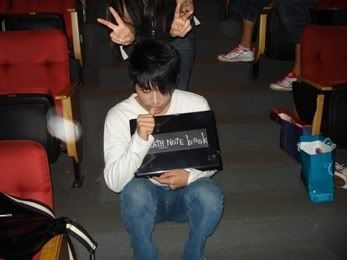 Him and his death note book. Lol.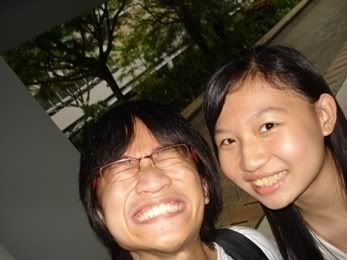 Antonio! Small little boy. And he freaking got 7 marks for his L1R4...


HAHAHA POSERS. LOL.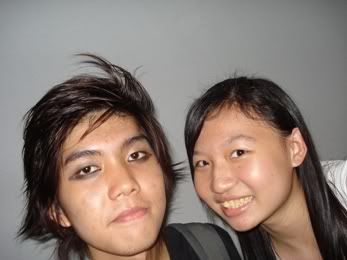 This is Uncle Hamster((: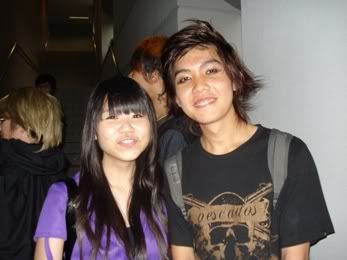 Trying to be hamster like. HAHA.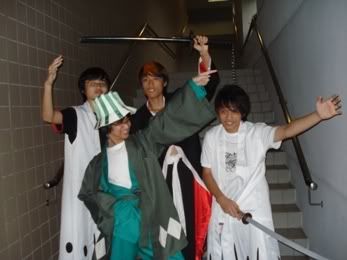 ......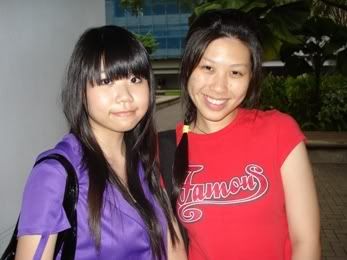 Huitian and Michelle1(: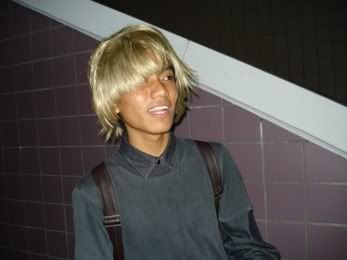 Rasedee with golden hair! LOL.
Lastly,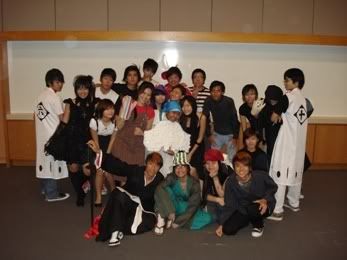 DMD02! :D We got chased out of the lecture hall after that. LOL.

Yupyup. That's all. So many photos! Actually i still have some photos taken today in the lab and when i was out with Rongxuan. Haha. I will post it the nxt time coz im seriously tired)): Full shift at work tmr. Sadded. Haha. Alright. Byebye! :D



I've made up my mind. I wouldnt wan to talk to you ever again...
❤JOEI!:D 11:07 PM