Tuesday, February 27, 2007
HAIX!
SAD! ):
SAD! ):
SAD! ):
SAD! ):
SAD! ):
SAD! ):
SAD! ):
SAD! ):
SAD! ):
SAD! ):
❤JOEI!:D 9:06 PM
Sunday, February 25, 2007
roy's hse
OHAIYO!

hahaha. okay. went to roy's hse. and i waited so long at the bus stop for huiyun and peiqin. :/ anw we went. rotted and gambled again. my luck was... ... haix. lost again lah. lol. $3.60. gone! ohwell. one day, ONE DAY i will win it back. hahaha. after that lao yu sheng. the table was so dirty. hehhs. and the floor as well. LOOL. and then went home. nope. ate dinner 1st. (:



sometimes i juz wish that i can lose all my memories. sad and happy ones. at least i would be much more happier than now. ):
❤JOEI!:D 9:33 PM
100th post! :D
BOO!

this is my 100th post alrd. (: hehhs. which means i've posted 100 times. lame. hahaha. okay. i shall now post 2 pics taken ytd at hweizhong's hse. hahaha.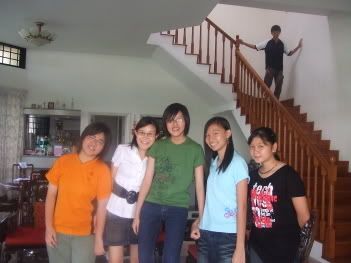 peiqin is so tall! coz she's standing on a stool. hahaha. (: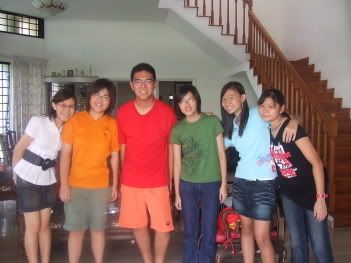 yay! :D

okay im goin off alrd! do my hw. argh! sucks lah. and goin roystonn's hse soon! :D
❤JOEI!:D 1:41 PM
Saturday, February 24, 2007
hz hse and mum's b'dae
BOO! (:
its n0w 11.48pm. and i juz reached home a few min ago. hehhs. went to hz hse today! and had fun. lol. watched the others gamble and take note. I DIDNT GAMBLE! :D went for dinner, came back and watched a movie called 'the host'. its so gross lah! i mean the monster. haha. its a korean show. (: then gambled. :/ and i lost money! haiya. $3++ okay lah. not too much can liao. lol. actually lose quite alot until i won $5. but that's the last round. haha. ohwell. nth to talk abt. mayb goin to roystonn's hse tmr? dunno. :D
happy birthday mummy! :D
❤JOEI!:D 11:48 PM
Friday, February 23, 2007
emo
in life there are bound to be ups and downs. ppl will be sad at times. im trying very hard to forget abt things and i failed. ): this will make me even sadder so im gonna put in 101 more % to forget abt what am i suppose to forget. AH! i will i will i will!!!!!!!!!!!!!!!!!!!!!!!!!!!!!!!!!!!!!!!!!!!!!!!!!!!!!!!!!!!!!!!!!!!!! and i will succeed! the day i forget abt everything will be the day you'll see the happy and cheerful joei. haix. but currently juz ignore me and very soon, the real me will be back.
❤JOEI!:D 9:03 PM
Tuesday, February 20, 2007
cny 3rd day! :D
HELLO! :D
im back! hahaha. let me talk abt ytd 1st.
okay. after i met up with them, we went to peiqin's hse. rongxuan waited for us for so long. hehhs. but he had alan to accompany her eh. LOL. and then we went up. rot! and then we went to eat. yumyum. ate quite little coz we shy. :/ and then we went into the room to gamble. WITHOUT money. hehhs. i blackjack 3 times eh! but no money one. ): and then we went to the living room to gamble. but this time round its with money.

(ignore the fact that i said i was a good kid in the last post. :/)

and we were drinking some wine i guess. huiyun drank so fast that her face turned red! and she was drunk. -.- my face was a little red but i wasnt drank ok? we were all still okay. (: and we continued with the game. i did not hav blackjack! not even once. and i lost. nvm lah. $1.60 only. LOL! coz there was small bets only. hahaha. alan won so much! humpfs! :/ ohwell. then we decided to stop. and peiqin suggested that we help her father finish up all the food. so we played indian poker. the one who lost will need to drink. and then the food came! we didnt care whether we lost anot. we juz ate. hahaha. who cares lah. we were hungry. =X haha. yupyup. and then we went home. huiyun vomitted on the way. and the rest of us went home! :D we took some photos. well. i will post it when i get them! :DDDD
okay. now abt today. haha.
went to my aunt's hse and we were the last to reach. :/ luckily i brought my laptop along so i can kope their internet. hehhs. and they agreed alright? haha. and after awhile we lao yusheng. (: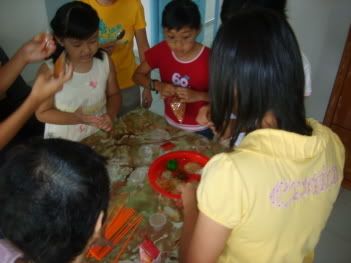 they were preparing it.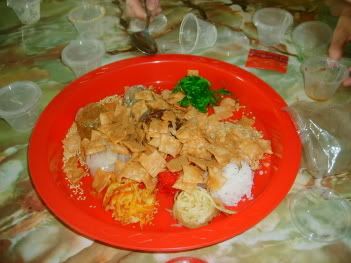 the done up!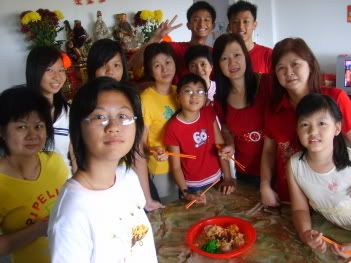 before the yusheng. (:
yupyup. but i didnt take the after. the table was very dirty. ahaha. and i went back playing my com! :DD while the adults gamble. hahaha.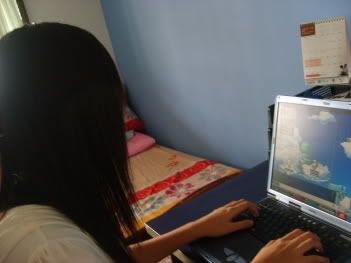 i was playing maple. (: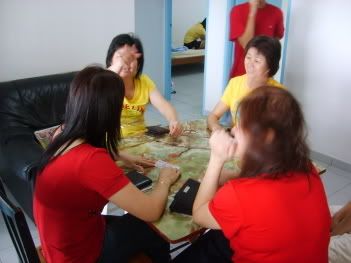 they were gambling! hahaha!
and rongxuan was inside! wad a surprise! hahaha. she was lyk asking me to go her hse and complaining. shhh. hahaha. and i was still deciding whether to go anot but in the end i decided to go! hahaha! and i took quite along time to reach her hse. 1 hour? dunno. LOL. okay. before i went, my cousins wanted to take photos. -.-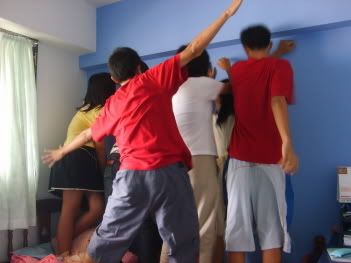 he was lyk trying to catch us and i guess he managed to do it coz there was the dead end. HAHAHA! no lah. we were juz posing. :/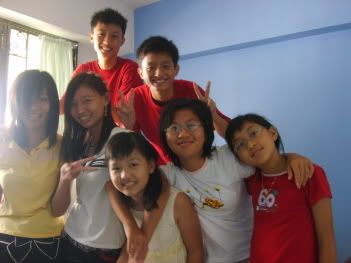 my head! AH!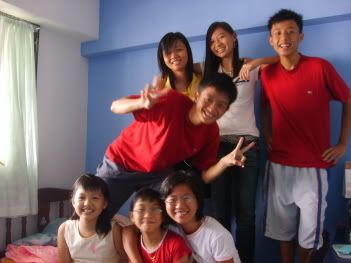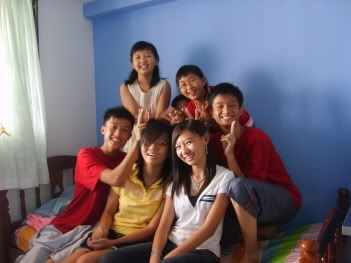 cousins unite! :D
yupyup. and then i was at rongxuan hse. watched step up! had dinner and went off. hahaha.
now i gotta go and study geog! and joei's super duper uber effing sad now. ): there's sch tmr. sucks lah. ): ohwell.
/edit
okay. here's a photo which i juz recieved frm alexis. its a photo taken after our last vb match! :D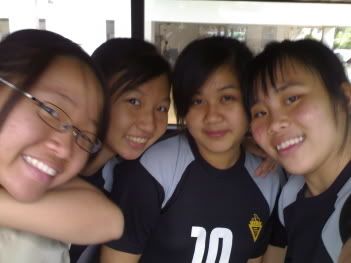 the four of us! we will still hav the passion for vb. (:
❤JOEI!:D 8:28 PM
cny 2nd day (:
aholla! :D
it was the 2nd of cny ytd. haha. wanted to update my blog ytd night but my connection isnt working so i shall update today. (:
went to my ah gong's hse. ohwell. as usualy it was so bored. i nearly fell asleep but i didnt. (: hahaha. coz was controling. coz if i slp, i'll slp till 5 plus which means that i'll be late, for meeting wy and yy. hahaha. den watched them gamble. im a good child so i dun gamble. :D hahaha! 5.15. rushed down to the mrt station to meet yingying. haha. but she was late too. =X and then wy came to yishun to look for me even though we said that we would meet at khatib. haha.
anw i gotta run! continue my part of the story when i come back frm my aunt's hse. (: (: (:
CYA!
❤JOEI!:D 12:59 PM
Sunday, February 18, 2007
cny 1st day! : D
ohaiyo! :D
today's the 1st day of cny! and i juz came back frm my ah ma hse which is juz upstairs. hahaha. my sis and i came down while the others are still upstairs. its so boring! and warm! haha. i rather stay in my own hse whereby i hav my laptop and its not so warm! LOL! ohwell.
we went up at 1 plus and guess wad? we were the 2nd to reach. haha. this shows that all ppl lyk to be late. hehhs! and then watched that damn tv and joei tan finished a box of ferrero rocher again. LOL. i juz love CHOCOLATES! :D although i had ulcers but i still finished it. lol. the show ended and boredom starts! rotting. ): and at 4 plus ppl started to pour in which means angbaos coming in. WAHAHAHA! ohwell. the living room getting smaller and smaller as well. haha. and then at 5 plus. i cnt stand it alrd so i came down. to use the com! and due to extreme boredom! my sis and i took photos. hehhs.
reflections!*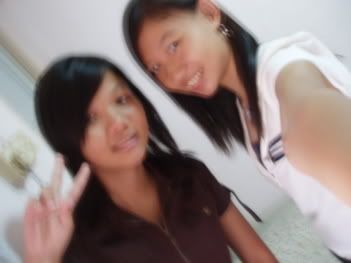 blurred. haha.
clearer one. (: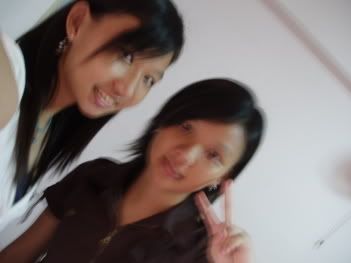 blurred again but who cares? haha. i lyk it can liao. :/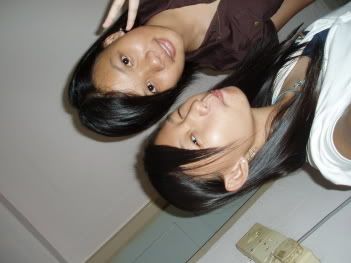 my sis and me. upside down* (:
hahaha. yupyup. of coz there are more but lazy to put. lol. and tmr goin ah gong's hse + peiqin's hse. hahaha!
TATA! :D
❤JOEI!:D 7:16 PM
HAPPY CNY!
HELLO!
its cny alrd! :D yayness! hahahaha. and its kenny birthday too! hahaha. was counting down with kenny and yunqi and yaorui on msn. and yaorui hum ji. =X hahaha. kenny's 16! wth lah. hahaha. anw i hereby wish kenny happy birthday and to all: happy new year! :DDDDD
HAPPY BIRTHDAY KENNY!
and
HAPPY CHINESE NEW YEAR TO ALL! <333
❤JOEI!:D 12:17 AM
Saturday, February 17, 2007
reunion dinner! :D
heyya ppl! :DDDDD
juz finished my reunion. haha. this year is special coz all my relatives come to my hse. LOL! so its hell crowded here. lets juz pray and hope my aunts dun come into my room coz im in my room blogging! hahaha. so full and its delicious! there's still lotsa left overs. hahaha. its cny tmr! :D and im so looking forward to it. eh. on second thoughts, not really. coz i noe i'll be bored to death with all those adults talking and my cousins who are much more older than me. sigh. ohwell. tink on the positive side! (: its CNY! happy :D hahaha. anw im now bored again. ohwell. i shall go back to watch my tv. :D
BYE!
❤JOEI!:D 7:46 PM
Friday, February 16, 2007
cny celebration
im so bored lah. nth to do. so sian. yingying's entertaining me! :D
had cny celebration today. well. its the last cny celebration which we will hav in peirce. lol. and it was not a good one. ): so damn boring. nvm. hahaha.
after sch went orchard with huimin, yingying and meiting. they wanted to buy new year clothes and i bought all of mine alrd! hehhs. i left early. coz later at night goin to watch movie. i gave kenny face since its his birthday! haha. 9 ppl went and we watched ghost rider. yupyup. quite nice but i still dun lyk it. :/ hehhs. ohwell. after that went for dinner. how cool? dinner at 9 plus. haha. but its not the 1st time. LOL! and then we went home! :D and here i am blogging. hahaha.
im looking forward to 28th feb! can see all my cssp friends! wahahaha! miss them lots. LOL. except for some AP ones. =X
BYE!
❤JOEI!:D 11:01 PM
Wednesday, February 14, 2007
HAPPY VALENTINES DAY!
hello ppl! :D
its valentines day today and yet the 1st ting we had in the morning is social studies test. LOL. okay. when i reach sch, everyone was alrd starting to exchange gifts. (: and i recieved alot. and i recieved my birthday present. LOL! so funny lah. so long ago alrd. hehhs. and then there was the test. and up nxt was maths. we had maths relay. ohwell. i dunno how to do the qn. hahaha. and then it was chem. was HELL BORING! lol. and then had double period of phy! i was so pissed off. and i threw my temper. sry vivien. =X coz i was very angry! argh. i had to stay back.
then there was choir. had quite alot of fun but then the room is so packed lah. and it was so cram! i had no place to sit so had to squeeze a little. :D and then we had this joke. if ppl were to ask us who we was our valentine? we will say. we were with 90 over ppl. in a room. with boys and girls. wad can we do? HAHAHA! sing lah! LOL! mayb its not funny but its funny to us. lol. mr phua still owes me pizza and im gonna claim it back frm him. LOL.
yupyup. and then went home. so now im here blogging. i juz ate a box of sushi and so full! hahaha. BYE! :D
HAPPY VALENTINES DAY! <33
❤JOEI!:D 8:48 PM
Tuesday, February 13, 2007
yingying's birthday!
HEYYA! :D
im here to blog. LOL. actually i dun feel lyk blogging and im kinda lazy nowadays. =X but i came here for the sake of TANYINGYING coz i wanted to wish her a happy birthday.
HAPPY BIRTHDAY BRAINWASH TAY! :D
❤JOEI!:D 7:25 PM
Sunday, February 11, 2007
bluestarsian!
I LOVE BLUESTARSIAN! (:

hahaha. im juz being mad so juz ignore me. LOL! (:
❤JOEI!:D 9:42 PM
Saturday, February 10, 2007
o lvl! AH!
hello everyone! i shall update abt ytd and today. (:
ytd:
lessons was as usual super boring so i shant talk abt it. after sch stayed back. did the classroom again. and its still plain. ohwell. who cares? we alrd did our best. :D and then we went to the sch hall for the sec 4s to take their results! AH! the atmosphere was so tensed. and many ppl cried. be it happy cry or sad cry, its still cry. haha. and some had good results and they cried. but congrats to luyun who got 7 distinctions! (: CONGRATS! hahaha.
nxt year. nxt year it would be our turn. i noe i would be crying. SAD cry. well. i will hav to work hard! but i noe i cant. cant slack anymore. but i'll be slacking. haha. i shouldnt be talking abt this. so i shall keep quiet.
after that had sectionals and i wan to complain! JUNIOR BULLY SENIOR! hahaha. but they are nice ppl. (: then went tp. ate BK and i was so full. feel lyk a glutton. =X anw we went toilet and took photos. i noe its lame. but since we're bored we took photos. WAHAHAH! :D
rongxuan and me! (: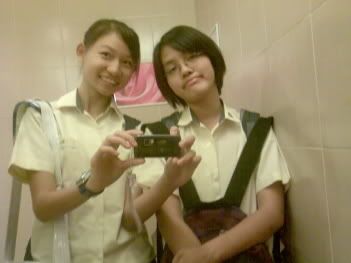 wondering why are we carrying so many bags? im carrying yingying's bag while she's carrying wingyan's. LOL!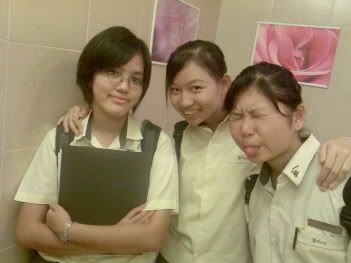 huiyun's face. -.-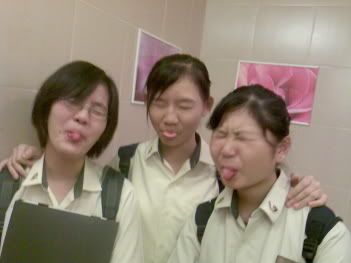 :D
hahaha. yupyup. and we were in yamaha when we saw this very special piano. damn nice. (: and went home.
today:
went out to buy things. i cnt say. hahaha. den bought valentines day tings. havent buy finish. sian. and i reached home at 10 plus! -.- there are so many tests nxt week! for 4 days. we will be having test. in a row consectively. LOL! i muz jiayou and study hard! (:
gotta go. BYE! :D
❤JOEI!:D 10:55 PM
Thursday, February 08, 2007
):
sad tings happening all around. and so many ppl cried during these few days. haix. why do we hav suck life? ): but i got to go in court to play today. but im not even happy. its was horrible! well. guess we hav to accept it. and i cried for 2 times lah. why am i always crying?! can joei tan juz stop crying! argh!
i'll juz end it here coz i dun even hav the mood to blog. haix.
❤JOEI!:D 9:35 PM
Wednesday, February 07, 2007
DEPRESSED!
i cried again. 2 times today alrd. dun ask me why. i juz feel depressed. seriously depressed. ):
❤JOEI!:D 8:51 PM
Monday, February 05, 2007
sadness everyday
hello.
ohwell. not in a very good mood today. im still feeling sad. sad sad sad. haix can i juz jump off the building and end my life? im sure lots of ppl will be jumping for joy when i die. coz im a burden to them. i feel lyk im one. ): yingying too! we wan to jump of the building. she's my sad buddy and i love her. yupyup. she's the one who can understand me the most. (: and so we planned to die tgt. who noes? mayb i'll be lying on the road tmr. (: thus, pls send ur condolences. :D
why are there so many ppl sad nowadays? -.- boohoo. cries. even if i cry in the middle of the night, nobody noes. and who cares abt me anw? well. tink i shouldnt continue this sad stuff. happy tings! MALAYSIA'S JUE DUI SUPERSTAR VERY SHUAI! *screams* (: wahaha. gotta go!
BYE!
/edit
okay. this is a song called 'left alone outside'. introduced by mark. i tink the lyrics very meaningful so i shall post it out.
All my life i've been waiting
for you to bring a fairytale my way
Been living in a fantasy without meaning
It's not ok, i dont feel safe
I dont feel safe (oooh)
Left Broken, empty and in despair
Wanna breathe, can't find air
Thought you were sent from up above
But you and me never had love
so much more i have to say
help me find a way
And i wonder if you know
how it really feels,
to be left outside alone
when it's cold out here
Well maybe you should know
just how it feels
to be left outside alone
to be left outside alone
I tell you,
All my life i've been waiting
for you to bring a fairytale my way
Been living in a fantasy without meaning
It's not ok, i dont feel safe
I need to pray..
Why do you play me like a game?
Always someone else to blame
careless, helpless little man
someday i might understand
Theres not much more to say
but i hope you find a way
Still i wonder if you know, how it really feels
to be left outside alone, when its cold out here
well maybe you should know, just how it feels,
to be left outside alone
to be left outside alone
I tell you,
All my life i've been waiting
for you to bring a fairytale my way
Been living in a fantasy without meaning
It's not ok, i dont feel safe
I need to pray..
Ooh Pray
Heavenly father (oooh)
(Please)Heavenly father (Save me) Oh save me
Oooooh..
And I Wonder If you know
How it really feels
To be left outside alone
when its cold out here
Well maybe you should know
just how it feels
to be left outside alone
to be left outside alone
All my life i've been waiting
for you to bring a fairytale my way
Been living in a fantasy without meaning
It's not ok, i dont feel safe
I Need to Pray....
reading this makes me even more sad. lol. haha. nvm. and yingying and jason cheering me up. (: tytyty. haofong oso cheered me up. hahahaha.
❤JOEI!:D 9:05 PM
Sunday, February 04, 2007
maple
heyya! :D
juz woke up at 9 plus and my breakfast have not arrived yet. :/ hungry! 'hungry man is angry man' quoted frm brainwash tay. hahaha. yup. and now i shall post some maple pics. (:
the time when i died 2 weeks ago. all thanks to 2 ppl. -.-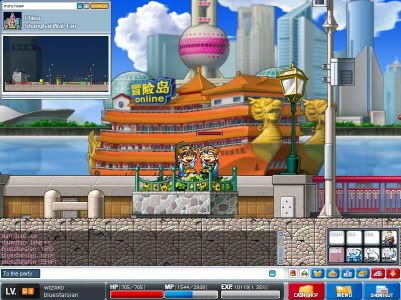 bluestarsian and darndiao at shanghai! :D
the below ones are taken ytd. (:
hollowf2 trying to act funny by being sad. lol.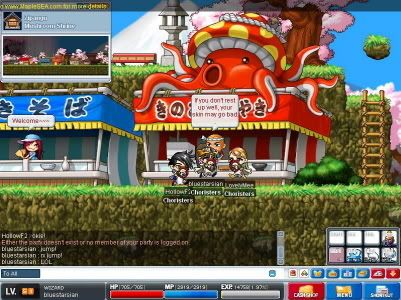 we were all jumping!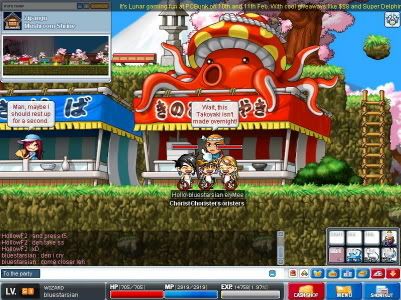 finally all smiles. i love lovelymee! :D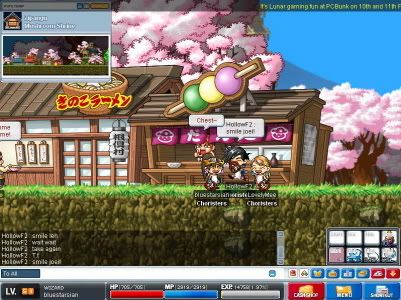 im smiling and yet hollowf2 is asking me to smile.
bluestarsian, hollowf2 and lovelymee! (: (: (: we are naked!!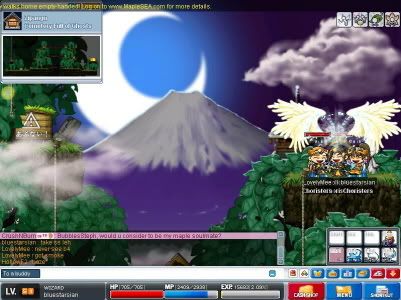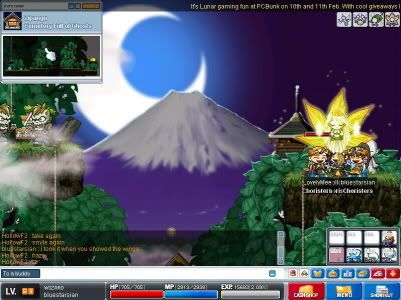 showing off his skills. -.- we wore back our clothes alrd. haha.
yup. and of coz there are more but i lazy post. lol. ohwell. BYE! :D
/edit
okay i seriously hate my parents. i feeling super fucked up because of them.

(dun blame me for saying fuck)

they actually said im stupid. wtF lah. as if they are very clever lyk tat. they dun even noe english. pls. if they are cleverer than us, then they will hav the right to say im dumb. esp my fucking father. argh! cant stand them. they seriously suck! if im dumb, dun ask me for help lah! do it urself. i hate my parents! shuddup man! if you are clever enough, take my place and study in sch. always saying that we nvr help them. go and see how stress are we in sch. tests tests and more tests. if they can do it. im willing to be standing there and letting them scold me stupid. i dun mind. if they can cope with the life im having now. ARGH!
❤JOEI!:D 10:40 AM
Saturday, February 03, 2007
hello!
hello ppl!
i juz came back frm dinner. i feel lyk a glutton man! ate a bowl of noodles PLUS a plate of carrot cake. hehhs. if i continue eating lyk tat i will be a fat pig in not time. LOL! and joei tan woke up at 7.59 this morning. (: its still 7 plus! hahaha! see this shows i can wake up early. LOL.
i did my history and phy hw and there's 3 tests for me on monday! phy, history and emaths. wth lah. and you noe wad? i havent even started! wonder how am i gonna finish studying all three in one day. (: haha. yup. and i would lyk to thank this ppl, yingying, huimin, haofong, yunqi, emily, huiyun and my bf meiting! HAHA! ty for cheering me up ytd. (: (: (: i was super uber effing sad. haha. anw shall go off. and that brainwash tay still havent talk to me. humpfs. :/ i shall go and talk to her then. she's my sad buddy. (: hehhs. and meiting proclaim that she's my bf. ohwell. haha.
BYE!
/edit
and oso thank you jason for entertaining and cheering me up. haha. yup. i better thank him if not he later say i thank so many ppl nvr thank him HAHAHA! (:
❤JOEI!:D 7:43 PM
Friday, February 02, 2007
): ): ):
ohaiyo!
hmm. ytd was quite fun. there's the vb match! we WON! but win 1 lost 2. hehhs. everybody was happy even though we lost. at least we tried our best. and we were so high in the bus! :D yup and as usual, im EXTRA.
if you cnt stand ppl crying and complaining all the time. you can always move ur arrow key to the top right hand corner of the window and click it.
im sad. seriously sad. cried again but sry i cant help it. although im smiling on the outside but im sad on the inside. if im sad doesnt mean that i hav to show it out. yup. if you dun feel lyk talking to me den juz ignore me! dun need show me that attitute. everyone's treating me lyk a piece of shyt. its really saddening. i dun wan to be a cry baby crying everytime. im alrd very sad. and yup. cherie noes it. thanks. and its not the 1st time im crying in sch. i might be smiling in sch but its a fake smile. im alrd on the verge of breaking down. pls. dun sadden me anymore. i've alrd said that i may cry in front of you ppl so pls dun blame me. i juz wish to be alone. juz let me cry it all out. it will help me feel abit better. im crying not because of one ting. there's still other tings. and of coz it cant be solved with juz a single click. things are not as easy as you tink. haix.
❤JOEI!:D 3:27 PM