Wednesday, December 27, 2006
wedding dinner and out with my mummy, yingying! haha.
hello everyone! haha. im updating abt the wedding dinner last night. :D
i went for the dinner. very nice. but cold. lol. i was playing with my cousins and one small little boy who is so cute. haha. this post should be short. coz im lazy. =X photos took last night! haha. i love sharkfins soup the most! :D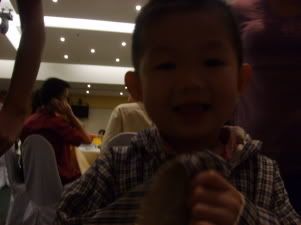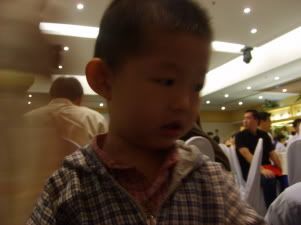 the cute little boy.
cousins! :DD
yupyup. had a great time. haha.
today:
i went out with my mummy! yingying! haha. she's my mummy! (: anw i lazy to blog. =X
alright bye everyone! :D
❤JOEI!:D 9:33 PM
Tuesday, December 26, 2006
'new' site
aholla!
went to sch for amaths remedial. sian lor. almost fell asleep. lol. suay lor. in the morning took the same bus as cherie. lol. anw it was really boring. trust me and new site is so 'great' man! haha. 'big' lyk anything! hahaha.
after that i went to eat lunch with yingying. ate mac. haix. amk is so boring. walked around aimlessly. ): i needed to go off early if not can go orchard with her le. haha. anw i hav a new mummy!
iie lurbbe moii neww mummy! :DDD
LOL. haha. ohwell. goin off soon. having wedding dinner later! (: BYE!
❤JOEI!:D 5:34 PM
Sunday, December 24, 2006
MERRY CHRISTMAS! :DD
aholla! merry christmas! haha. goin to be. but early de. (: anw i shall blog abt wad happened on sat since i got the pics alrd! (:
saturday:
i met up with cherie, emily, zhengrui, kenny and daniel yip. haha. we went to cherie's church. its a candlelight service. yup. so we went. there was alot of ppl! and its fully seated. haha. they even had to add somemore seats. lol. this is my 2nd christmas spent at cherie's church. while waiting for the service to start and with cherie around, we are bound to take pics. (: haha.
emily, cherie and joei!
six of us who went for the service. :D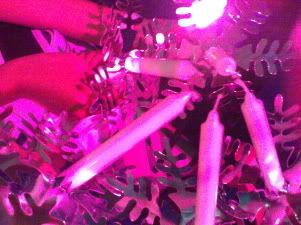 CANDLES! (:
the service started. haha. we sang songs. it was fun! the drama, the songs, the atmosphere. everything was fun. everybody was high and you can really feel the christmas mood. (: yupyup. and then we light our candles. the view was very nice. with small little orange lights in the dark. juz love that scene!
me and cherie's candle. passing the flame.
cherie and me with out lighted candles!
haha. and there was the pastor talking and it ended. seriously enjoyed it. :D ty cherie. (: haha. after that there was this carnival. i didnt wan to go. i dunno why. i juz dun wanna go. so i ps them and went home. yupyup. but then we took some more pics as well. haha. huiqin and yunqi came and join us! (: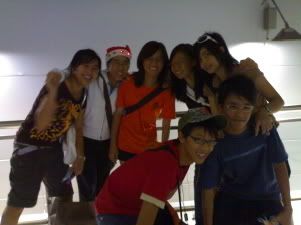 US at EXPO! :DD
i went home. and when i reached home, i felt lyk vomitting and had a high fever. sad rite? dunno how it came. haha. and i was off to bed early. (:
sunday:
i went out to buy my new year clothes! haha. i bought quite a number of things and i tink i spend the most? =X coz my watch alone alrd cost $100+, plus my bag $50 and lastly my jeans which is lyk the most ex among all the clothes $30+. haha. yup. nvm lah hor? hehhs. and i still havent buy my shoes! wonder how much am i goin to spend man! LOL. anw i felt lyk vomitting all the way. ): sad.
anw tink i should be stopping here. goin maple with wingyan and rongxuan for countdown to christmas! haha. yingying, peiqin, huiyun and hongguang should be at orchard now. waiting for the countdown. + those who went for carolling with ms lau. they should be there! haha. (: lastly, i wanna wish everybody
MERRY CHRISTMAS!
❤JOEI!:D 11:11 PM
Thursday, December 21, 2006
CHALET! :DDD
hello everyone! im back frm chalet and its been quite some time since i updated. haha.
anw the chalet started on 19th dec and ended on 21st dec. yupyup. and here i am blogging. (:
day1 (19th dec):
all of us were suppose to meet at 3 but since im a good person so i waited for hongguang. haha. so i packed at the very last min. =X anw den i went to his hse and vincent oso came to meet us. we took 53 to pasir ris and i tink we missed the shuttle bus so no choice we had to take public bus. all of them were alrd there except the 3 of us. -.-'' they started bbq-ing and i didnt eat much coz i had no appetite. mayb coz i ate chocolates on the bus? lol. and then we all sat down and watched tv. oh yah. its a two storey room. so we all sat downstairs watchin tv. hehhs. and after that all of us were smelly. we took turns to bathe and we started bathing at 12 plus ended at 2 plus. 10 over ppl takes 2 hrs plus to bathe. lol. while waiting for our turns, we sat in the room and talked. (: talking abbt *ahem ahem*. haha. so funny. even ppl who are getting slpy suddenly high. haha. and after that we sat on the bed and played truth or dare. i was the 1st one to tio lyk wth? lol. nvm lah. everybody will tio but juz tat its a matter of time. hahaha. and then we went to bed. the guys slept downstairs where there's no bed but only mattress and the girls slept upstairs. all of us couldnt slp even though we are seriously tired. some of them went to walk walk but we continued slping. and the end of day one. (:
day2 (20th dec):
we were so lucky that it didnt rain today!! haha. woke in the mornin feeling super tired. and then we went to mac to hav our breakfast. but huiyun. xinmin and huiyun stayed in the chalet sleeping. -.-'' so we ate and came back. norine wanted to go wild wild wet so badly so we went back to the chalet and diiscuss what should we do. lol. and finally we came to a conclusion: wild wild wet. since the weather is so nice we should make full use of it. haha. we went in and to get started, we went to the lazy river. haha. to get us immune to the water 1st. woots! we went 2 rounds and we were lyk fooling around. haha. nxt we went to the ooohlala. haha. at this point of time, sebastian seem so popular. everyone wanted to sit with him. haha. okay. my grp here oso not bad. haha. got ryan and hweizhong. their weight add tgt is heavier than sebastian. hehhs. :D its was nice! went to play yakult where the water will be splashing on ur head. nxt we wanted to go cycle but in the end went tsunami while some went the samsung ting. lol. it was fun. but we waited for the wave for quite long. and then those who went for the samsung ting came to look for us and then we all went for the tsunami. haha! we made a big big circle and it was so hot that we kept helpin each other splash water. (: very nice. some cnt take it, "haiya, jump into the water lah." lol and then they went in. lol. after that i got a bit sick and felt lyk vomiting so i went back and sat down to watch them play. and then we went for the kids playground hehhs. played with the slide and smth bad happened. vincent's teeth knocked onto alan's head and alan was bleeding lyk hell. his shirt got stained by blood and his head needed to be stiched. yupyup. everyone was worried. and the doc damn cool. said will reach by 5 but in the end reached at 5.40. -.-'' wth lah. and alan's wound was 2cm wide not 2cm deep! haha. and hongguang waited for us outside wild wild wet lyk for 1 hr plus. haha. coz we cant open the locker if not $2 gone. alan went home at night and xinmin too. qiwen and qiyun wanted to go off too but they stayed in the end. (: ken oso went home. coz she had to dine with her aunt who's coming to singapore frm KL i tink. haha. everyone was lyk no mood play so when all of us bathed finish, we went to eat. food court. -.-''on our way to food court, roystonn predicted smth and it was correct! haah. ate and then bought ice cream and went to the arcade. but i didnt play a ting. lol. went back to the chalet and our neighbour were lyk talking bad abt us. humpfs. they threw a fork and dunno wad over to our doorstep. stupid lor. haha. nvm abt them. a bunch of idiots. then we watched tv again and this time all of us slept early. the guys went out to buy things except for hweizhong. all the girls were upstairs so he came up and join us. lol. we wanted to slp on the bed so when the guys came back, norine, hweizhong, liling and me were faking to slp. except for qiyun coz she talking on the phone so she go open door for them coz we locked it. lol. no choice they had to slp downstairs. hahahha! evil us. lol. but in the end its was settle that the guys downstairs, the girls upstairs. liling and me were the 1st to slp coz it was really very tired! haha.
day3 (21st dec):
woke up and ppl were even more tired. it was very quiet coz alot of ppl were gone. roystonn, daniel, hongguang and huiyun were gone. they went off alrd. so we cleared up the room but i did nth. =X and then went to return the key. and went home! hweizhong, liling and i took 88 home. then hweizhong changed to 169 while i took 261. on our way to our bus stop. we were chatting and saying that's its so obvious. and even a dumbo can see it. ur dunno wad im talking abt so nvm. (: some might noe. :D haha. and then im back home.
okay. that's chalet. haha. and i tink im gonna slp. *yawn* BYE! :DD
❤JOEI!:D 12:29 PM
Saturday, December 16, 2006
hello everyone! im blogging. haha.
sometimes i really wonder why i hav this kind of parents. parents who scold you stupid when you dunno how to do smth, eg fixing the phone. hello? im not an IT freak who noes how to do it. even if i am, i might not noe. if they are really that clever, why cant they fix it themselves? and we cant possiblely scold dumb rite? and when we say that, they will start saying they dun hav much education. saying they pay so much for us to study. do we hav a choice? if we hav a choice, we wouldnt choose to study. and there's smth i wan to clarify, we dun learn this kind of stuff in sch for their info. i dun deny that im dumb, but they dun need to say it out. nvr spare a tot for us. they dunno what are we thinking and we dunno what are they thinking. after scolding us, they will start to compare us with others. wth? they always ask us NOT to compare and they are doin it. set an example for us if they asked us not to but they didnt. ohwell. i really dun understand them. the reason why am i always goin out is to get away frm them. frm their nagging. forever saying its for our own good but does it help? NO! they are making it worse. i feel lyk punching them at times. haix.
stop here le. BYE! :D
❤JOEI!:D 4:40 PM
Thursday, December 14, 2006
hello everyone!
i havent been blogging the past few days. reason: im lazy. lol. and for the past few days i've been goin back to maple! (: haha. my com dun hav maple. sad lah. that's why im using my siser's com. but she's comin back tmr frm my aunt's hse so guess i cant use it anymore. ): oh well. im gonna reformat my com so all the memory can be cleared! haha. im still looking for ppl to help me. anw i finally lvled after 4 months! LOL 4 months eh. see. im so pro. :D haha.
anw i wont be blogging so soon. until when i feel lyk it. (: haha. so now, im goin back to maple. =X and im so looking forward to the chalet nxt week. YAY! :DDD
BYE!
❤JOEI!:D 8:19 PM
Saturday, December 09, 2006
sent wingyan off
hello everyone!
sent wingyan off to the airport today. haha. there's me, huimin, yingying, rongxuan and huiyun. shant elaborate on the details coz im lazy. hehhs.
BYES! :DDD
❤JOEI!:D 8:52 PM
Friday, December 08, 2006
out with yingiyng! (:
HELLO everyone.
i went out with yingying today since both of us are feeling bored. haha. i met up with her at amk mrt station and then we headed towards city hall. we then went to eat. yingying wanted to eat long john's but there dun hav so we went burger king instead. the person who served us is so weird! he talks lyk a retard but he's not. haha. went to walk around. our aim is to buy earrings and ear sticks. lol. but we went to look for bags and clothes. haha. there's this store with great offers. haha. tink clearing. so we bought this pair of slippers. (: then we continued walking around. we went back to suntec convection to see if there's any great sale but there's none. ): so we went to marina square. again, nth much to shop there too. haha. we didnt complete our aim! LOL. we went home after that. but on our way to the bus stop, we went to candy empire. haha. but compared to vivo's store, its much much smaller. haha. we took 133 and it was a long journey. but luckily, we bought tings to eat on the bus. haha. and after eating, there's still time and we were bored. and we took pictures! :DDD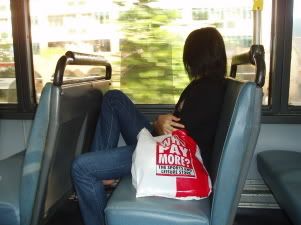 yingying! (:
joei! (:
he showed us attutite! argh.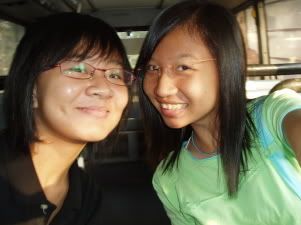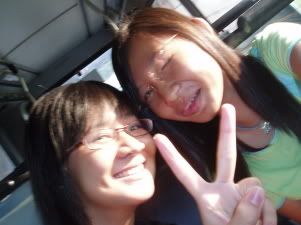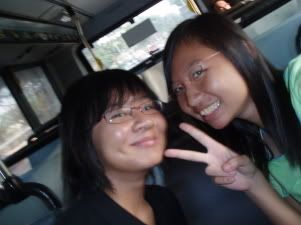 yingying and joei. :D the result of boredom. haha.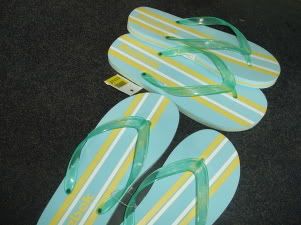 our slippers!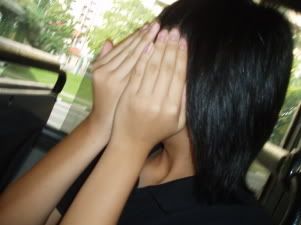 she camera shy. HAHA!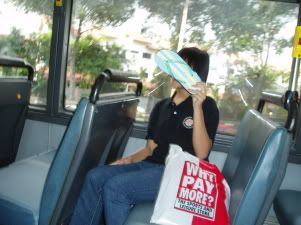 yingying and her slippers!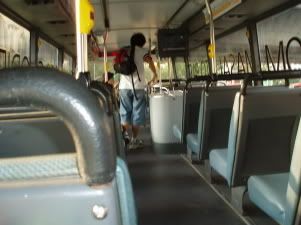 he finally got off the bus.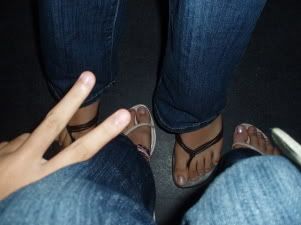 feet!
empty bus.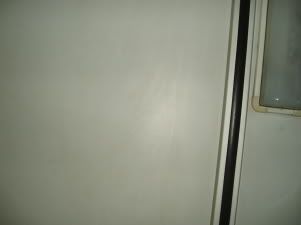 ceiling of the bus 133. (: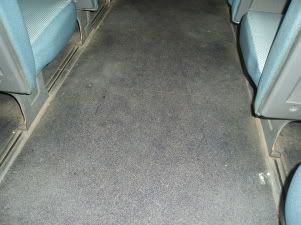 the floor.
why pay more? the sports and leisure store. hehhs.
yupyup. of coz there's more photos. but i will not post it coz im lazy. hehhs. and this a pic of our bikes with a nice view of the sea 2 days ago. haha.
our bikes. nice view rite? haha.
haha. gotta end here le. sayonara! (: sending wingyan off to the airport tmr. haha.
❤JOEI!:D 6:54 PM
Thursday, December 07, 2006
i hate vivien cheng! :D
hey everyone!
had a fun day today! in the morning i went to the gym with cherie and vivien. i met vivien at the mrt station and she doesnt noe wad's the meaning of the mrt bus stop. msg me and ask,"outside mrt huhx?" -.-'' nvr open eyes to see. haha. nxt we went into the gym at yishun stadium. yupyup. let me not crap abt that part. haha. the fun part is at the back. anw after gymming went to eat. ate fishball noodles. (:
actually wanted to play vb after eating but due to the weather, we decided to go to causeway point. :/ anw it was fun coz when we reached there, we were asked to write our new year resolutions on this white colour ball which will be placed at the countdown at marina bay! wahaha. so cool ritE? :D too bad alexis wasnt there. we walked around and saw santa aha. anw coz there's this show goin on and santa is performing so we saw it. haha. and we den went back to cherie's hse to play volleyball (: the funny part starts frm here. HAHA! we got tired by laughing and not playing. we kept laughing and wishing vivien would fall. btw alexis came and join us here. :D and we were lyk putting all the blame on her. hehhs! so FUNNY! haha. alexis tripped but she didnt fall. haha. and then cherie had to go off earlier. ): she has to go and see the doctor and go for her cg meeting. haha. anw the 3 of us then stayed back and play for anotther 15 min. (: and went to ABC supermarket. vivien is BLIND! she not only need to check her ears but her eyes as well. haha. and we went home. :D
btw
i declare that i hate vivien cheng lin li!
and this is a reminder to vivien cheng, you still owe me $8! (:
haha. and ppl who hav read

my blog, pls go to
alexis' blog.
http://sixela-said-perfection.blogspot.com/
coz they's smth in their which will make you laugh ur asses off! HAHA!
okay end here. BYE! :DDDD
❤JOEI!:D 3:34 PM
Wednesday, December 06, 2006
cycling! (:
hello! :D
i came back frm cycling! haha. i went to pasir ris to cycle with huiyun, huimin and yingying. firstly we met at j8. i was late. =X sry ppl. (: haha. den we spent 15 min discussing where to go coz hy tink its too ex at pasir ris. but in the end we still went there. haha. we needed to wait for the bikes ): nvm. at least it came quite fast. and we den had 3 mountain bike and 1 BMX. haha. i love the sea! very nice but quite dirty when's its low tide. haha. i love the part where all of us were chiong-ing. so fun! the breeze oso very nice. (:(:(: wahahah! after that went to arcade but in the end nvr play coz alot of ppl! hahah. we den went to white sands de fair price. bought snacks. ate on the bus. (: and we went home.
ah! my muscles are aching. ): haha. bet tmr will be aching as well. now having conference with kahhwa and shangchuan. they are entertainin me and they are argueing lyk siao!! hha. okay end here. :D
❤JOEI!:D 9:25 PM
Tuesday, December 05, 2006
stayover at huimin's hse! :D
heyhey!
i had an enjoyable night. haha. ytd night i went to huimin's hse. i didnt expect my mother to allow me to stayover. haha. im so happy! :D i still hung up her phone when she didnt allow me. hehhs. anw. huimin's father bought us mac. i ate mcspicy. (: and mcflurry. and a litle bit of fries. haha. and while eating we were watchin the asian games. well. life seriously sucks without my specs. i cant even see properly who are the ppl on tv. haha. everything is blur to me. and when i go onto the streets at night, i really have difficulty walking! haha. anw. back to the asian games part. the swimmers are all so muscular. even the girls. haha. i dunno how their faces look lyk coz i cant see! but according to yingying, the girls looked lyk guys. i tink so tooo coz i can somehow see that their shoulders are so board! ahaha. oh btw, yingiyng, huiyun and i stayed over. haha. singapore is so lousy. =X okay lah. at least the ppl who represented singapore is better than us. hehhs. but our relay team not bad eh. came in 4th. (: but others... ... haha. nxt was badminton. china suck lah. one moment they hit front, the other moment they hit far far back. 1st ball goes to the left, the 2nd ball goes to the right. stupid lah. i pity their opponents. haha. i didnt concentrate on watching that coz i was playing o2 jam. singapore's bowling is so great. they got strike most of the time! :DDDD hehhs. singapore is not so bad afterall. lol.
after that we played o2 jam. haha. and we wee lyk competing against hongpguang. lol. that stupid action freak. haha. and we won him MOST of the time. but he won us too. haha. after that is was alrd 3 plus. being bored, me and yingying were looking at other ppl's blog. and she came to my blog and started saying she rock. so BHB ritE? i tink so too. wahahaha. go to my tag board and see. and huimin's too. haha. lucky to those whose tagboards are not spammed! haha. go and aloo at ym tagboard and you will noe what am i talking about. haha. yingying suck i rock. :DDDDDD AGREE?!?!?! YES!! hahah. and i was getting slpy. haha. but i didnt slp. we played sims 2! yingying and huiyun were getting high that time. see how pervertic they are. haha! sad for them. and we played till 6 plus in the morning! see? pro ppl. (: then we slept. ppl are waking up while we are juz settling in for our slp. and the sun's coming out alrd! haha. i woke up at 10 coz my mother called me. ): slept for only 4 hourS? or lesser. haha. huiyun brought my phone to me. tink my phone's vibration woke her up. sry arh! and i had to go so i had to wake huimin up. i feel so bad. waking 2 ppl up. ): sry to the both of you!! yingying is still sound asleep. -.-'' and she's meeting yingzheng at 12. haha. anw i tink i shall end here lah.
i got my specs alrd! yayness! i can see (: wahahaha. and i bought my books le. they dun hav emaths tb and geog tb. it was out of stock. haha. okay i gotta go off. BYE! :D *yawn*
❤JOEI!:D 12:52 PM
Monday, December 04, 2006
a trainin which i'll nvr forget! argh!
heyhey!
had training in the morning. it was alright. haha. i love today's warm up. very fun! (: and then the training starts. wtF lah. SHE broke my specs. ARGH! and i had to go thru the rest of the training without my specs. its so difficult! and when she broke my specs, it was only the start of the trainin. this is my 2nd time breaking specs in volleyball. hav i made the right choice to join? if i hadnt join, this wouldnt b happening. ): anw this is 1st time i can serve the ball over when im in the court. haha. and 11 ppl looking at me. HAHA! 1st time leh! :DD hehhs. and i serve 2 balls continously. its an achievement. (: coz usually i cant even serve one. haha. after that had to practice serving. 15 times and i manage to do it. yayness! (; im so proud of myself today. =X
after that went to j8 eat lunch with vivien and cherie. ate mac. vivien objected but me and cherie wanted it so we won! majority wins. :D and we were talking about what happened in band, choir, NP and volleyball. haha. and how bias the conductors and the coach ARE! then we went to walk around. haha. and looked for vivien's brother's girlfriend's present. her birthday nxt week. she wanted to buy keychain and couldnt make up her mind! need me and cherie help her choose. and she wanted to buy sling bag. oso need me and cherie choose. dunno whether she buying or we buying. haha. and we came to a conclusion that vivien is not suitable to carry sling bags. (: and cherie said she's short. =X sry arh vivien. haha. at least you taller than your mother. :D haha. vivien keep complaining that she dun lyk shopping. no wonder she and *ahem* so perfect tgt. but they are not tgt. haha. cherie wanted to look for earrings but she couldnt find one that suits her. haha. and we went home.
when i reach home i told my mother abt my specs. and she started nagging. nag nag nag. then i went down to repair it. but ned to wait till tmr coz the frame out of stock. sad. ): nvm. i shall wait lor. i wan my specs! life without specs sucks. :D
i cant join wingyan they all for ikea. ): nvm. okay. end here. byes!
❤JOEI!:D 5:51 PM
Sunday, December 03, 2006
BBQ!
aholla!
haha. im happy coz i didnt hav a boring sunday! :D lol. in the morning i went breakfast with my godfather and godmother. and then went to walk around the market although there's nth to see. haha. my sister bought a pair of shoes. anw. this is not the exciting part. haha.
after that i went home to bathe and went to my aunty's hse. it was near little india and we had a hard time looking for that condo. i love that condo! its so nice and its so cool! haha. they had for swimming pools. i didnt swim. lol. but both of my sisters did. i didnt want to join them so i juz sat there and look. (: after that more and more ppl came. i was the only one wearing black. haha. looks lyk they are not the kind that fancy black shirt. and i dun either. i juz happen to be wearing one. (: after that its bbq time! they are so pro in starting the fire. it nvr fail. haha. and they made 4 piles of it. one of them look so nice. :D then they bbq the chicken and otah! yumyum. the otah is nice. chicken too! satay not very nice lah. and i ate all the cucumber they had. =X i juz love CUCUMBERS! not for long, more and more ppl came. i nearly lost my phone. HENG ARH! it was found. (: there's this stupid aunty. i juz dun lyk her. she sat on my place and used my fork. argh. and she keeps goin around taking other ppl food. she even took a chicken frm my plate. but her husband is alright. at least he took tings for us to eat rather than taking it away frm us. haha. okay. then we juz sat down there. the girl was so cute! couldnt take a picture of her coz my camera is spoilt. haha. she served us drinks. :D so cute lah. she will ask you,"how many longans you wan? you wan water?" haha. eat and eat and eat. oh no! im gonna grow FAT! lol. oh yah. b4 that both of my sisters had to bath. and you noe wad? the youngest sister of mine is so dumb. there's this spa inside the toilet and she tot it was a bath tub. -.-'' she jumped right into it and then started swimming. how dumb can she get?!?! haha. i was laughinh hell lah! LOL. we went up to the hse and watched videos of the wedding dinner last saturday. i missed it. coz i had cssp camp. haha. the grandson of the kiasu aunty is so typical. he took a whole cup of yanyan and ate it himself. he's so rude! its not even his hse. nvm. luckily i dunno him. and then we went home.
had quite an interesting day. haha. esp the spa ting. LOL. anw i found out smth. the baby which my mother's looking after lyks corners. she's always hiding in one corner. so cute lah! haha. and sadly she hav chicken pox down. ): ohwell. i still can go near her coz i alrd had mine. (: haha. okay. shall end it here. but b4 i go off, i shall post pic of the cute baby which my mother is taking care off. :DDD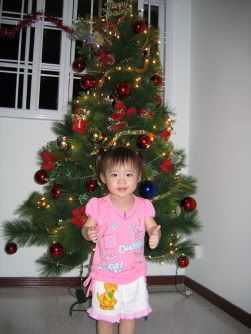 isnt she cute? haha. okay. end here. byes! tmr hav trainin and i cut cut down on my FATS! wahahaha! (:
❤JOEI!:D 9:03 PM
Saturday, December 02, 2006
life sucks!
life seriously suck man!
how many times do i hav to update my blog to keep me occupied?
BORED BORED BORED!
i've rotted at home the whole day.
WOW!
al least i did some of my hw.
jus a tiny weeny bit of it.
wahahaha!
anw im BORED
boredom kills!
if you are irritated by me saying bored all the time, close this stupid window. (:
i need entertainment!
oh well
i juz came back frm dinner.
since i hav nth to say
i shall juz elaborate on my dinner. :DD
i had chicken rice.
the rice sucks.
its so hard!
the chicken not bad lah.
i juz love CUCUMBERS! :DDD
hehhs
end of my dinner part.
im back and here i am.
complainin that im BORED!
and this is my second post of the day. (:
how i wish i could go somewhere ad HAVOC! :D
this is not possible lah.
LOL.
im CRAPPING!
all those are crap.
haaha.
im juz typing wad comes to my mind.
i wan to end my post here.
BUT im still bored so i shall continue.
uhm
wad else did i today?
i played o2 jam.
-.-''
bored huh?
frm this post you can actually see how bored i am.
this post is so god damn long
and i will still continue.
dun bother reading it ppl!
its nth coz its only self-entertainment. (:
AH!
nobody's entertainin me.
and neither am i entertainin anyone.
oh yah!
aloy still owes me a pig
i'll bug him everyday
HEHHS!
wingyan changed her blogskin so go and see it.
http://realliearh.blogspot.com
im helping her to advertise. :D
yingying cant use her com! ):
if not we would be entertainin each other now.
coz we are always bored. (:
rongxuan is having her bbq i tink.
haha.
huimin at her ah ma hse now.
-.-''
okay tink i should really end here. haha. see? how bored i am. LOL. i even wrote abt other ppl. haha. life SUCKS!
❤JOEI!:D 7:37 PM
rotting
ah! im bored!
seriously bored.
haha.
me and yingying actually wanted to go someone's hse and play.
haha.
wanted to go rongxuan's hse.
she has band bbq.
wanted to go huimin's hse.
she needed to go to her ah ma hse. ):
all ppl got ting do. only left us rotting at home.
haha.
anw lucky i still hav my com. :D
but im still rotting!
we wan go sentosa nxt week! :DDD
S.E.N.T.O.S.A!
SENTOSA!
go tan and play!
aloy look carefully!
SENTOSA! :P
haha.
he's a dumbo who keeps saying he wan play vb. :/
ask him play with the wall dun wan.
scare ppl scold.
SEE CAREFULLY!
sentosa! haha.
okay.
im crappin coz there's nth to do!
yingying!!
sentosa!
there's smth for us to do nxt week (:
hehhs.
sun, sand and sea!

okay lah. end here. im crapping. if not ppl get irritated reading my post. haha. anw it doesnt matter coz nobody comes. ): tatas!
❤JOEI!:D 1:42 PM
Friday, December 01, 2006
sushi buffet!
heyhey! im back. haha.
i juz came back frm the sushi buffet! hehhs. darn nice and darn full as well. haha. 1st i met up with yingying and hweizhong. as usual i was late. (: we took the train down to city hall and then we walked around 1st coz its still not 3 yet. haha. on the train alot of typical singaporeans! all KIASU de. :/ esp one little boy. yingying thinks he's a bookworm and the way he dresses himself looks lyk one too. :) anw the buffet starts at 3 ma so no choice. we went there and sat down. lalala~ these are crap. lol. anw it was darn funny lah. yingying keeps dropping her food and after that she put in on the plate. the waitress juz dun wan to collect it. so thinking that they will charge that as wastage, hweizhong suggested to put it into the teabag. HAHA! the waitress and waiter are all around so we hav to do it secretly. LOL. and finally they took the disgusting plate away. haha. anw we sat there and talked. eating oso need break de hor. haha. and we started eating. ate alittle only. yingying waited so long for her chawanmushi. haha. and it was nice! :DD
after that went to walk around coz hweizhong needed to look for smth. smth smth smth. haha. anw its rubbish. went to look for bags. i wan to change bag! there's no new bags around and none of them suits my taste. haha. so too bad lah. hav to wait for new design lor. sad. ): slacked around b4 goin home. coz all shopping centres are sian! even vivo. haha. we sat all the way to marina bay and back. i slept all the way. =X too tired lah. haha. i pei yingying go uy dinner for her dad. *YINGYING IS SUCH A FILLAL CHILD!* haha. and im saying that in a sarcastic way. hehhs.
okay im done blogging alrd. yayness. haha. ohwell. im bored again. LOL. yingying is so poor ting coz she cant use the com. haha. im FAT! and i ate so much today. :/ sad lah. FAT FAT FAT! and my blog's dying coz nobody come and see. haha. my tagboard too. ROTTING lyk hell. :(
❤JOEI!:D 7:57 PM
boredom!
aholla!
im so bored that i came here to blog. haha. at least there's smth for me to do but after blogging i dunno wad im goin to do. lol. oh yah! did i mention? i rebonded my hair. hehhs. lyk finally. after so long. hehhs. yay! (: actually after rebonding oso makes no difference. LOL. anw im BORED! super duper BORED!
BORED BORED BORED BORED BORED BORED BORED BORED BORED BORED BORED BORED BORED BORED BORED BORED BORED BORED BORED BORED BORED BORED BORED BORED BORED BORED BORED BORED BORED BORED BORED BORED BORED BORED BORED BORED BORED BORED BORED BORED BORED BORED BORED BORED BORED BORED BORED BORED BORED BORED BORED BORED BORED BORED
okay you can see how bored i am. anw goin sakae with yingying and hweizhong later. SUSHI! yumyum. hehhs. tatas. :DD
❤JOEI!:D 10:43 AM