Sunday, June 29, 2008
HELLO!

Im updating like after 1 week+? Haha. Quick update. Sch starts and my holidays are use for slacking-.- I dont regret doing that seriously, coz there's time for me to do my hw even when sch reopens. Haha. But for my CODID? NOOO! Luckily Huitian helped me with it! So last min and im glad its over((: I owe you one meal! :D If it wasnt for her, i think i would be getting a F. Lol. My FIRST D came! OMG. Guess in which module? DRAWING, stupid TAY. D eh! Damn saddening): My A have not arrive yet, i hope it comes asap. Lol. My F! I hope it nvr comes. DONT VISIT ME PLS!(: Photos nxt time coz im getting more and more lazy to update. Hehhs.

OH! Mapling is currently the hottest thing in class now. LOL. We see each other in school and we are talking about it most of the time-.- maple maple maple. I guess we all have been enjoying it and mapling with them is fun! :D I so coincidentally have a twin named xCANDYx. LOL this is Huitian lah. :D

Going back to my hw! GAH! Design fund is the best! :D Hectic weeks ahead......
❤JOEI!:D 8:24 PM
Thursday, June 19, 2008
updating!((:
HELLO!
Im updating at 1am in the morning. Haha. Im still awake and i just came out frm maple with Rongxuan. GOSH long time since i logged on to that man. I miss my bluestarsian((:

:D
Okay Liling's birthday bbq!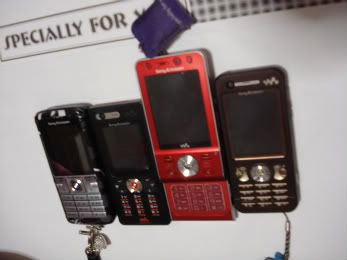 4 idiots are supporters of Sony Ericsson. LOL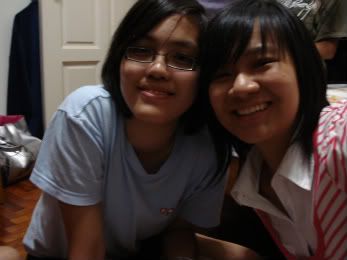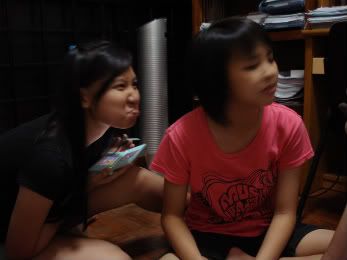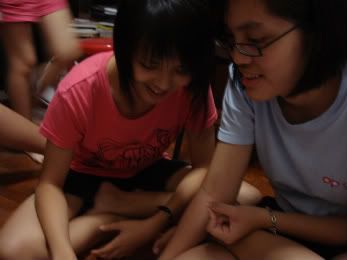 This is the birthday girl! :D
We wanted to take a grp photo but ended up we all had to go. Lol. It was at Hweizhong's hse and i dont like his neighbour's dog. So NOISY!
Last monday we had to go back to sch for colour theory lessons. But no teacher ard, we only had to do our work. Lazing ard, we decided to take photos! Haha.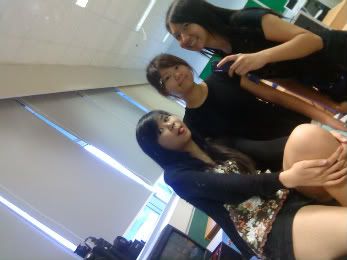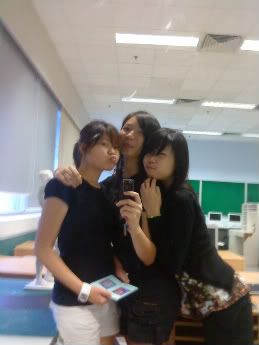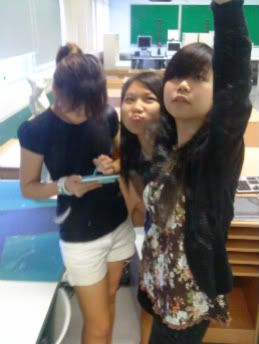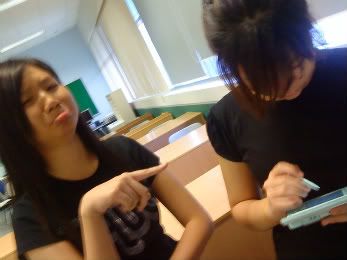 Yah, she took awaymy DS and i was ignored for 1 hour plus! LOL.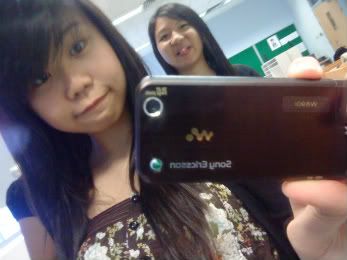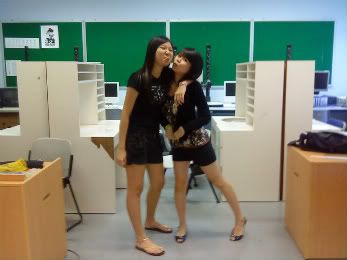 This is the work due on Monday and although its ugly, im still satisfied with it! :D Dont laugh okayy! Its my hard work. Haha
Plaza Sing on Tuesday to shop for the presents and the planning of it with Wingyan and Huimin. We shopped for only 1 hour+ and 3 ppl's birthday presents are settle. Arent we efficient? Hehhs. Yup we just went into shops that we think are suitable and tada! All were bought! LOL. After that time to shop for our own things:D Huimin bought 2 tops and 1 pair of shoes just because she followed me and Wingyan into the shops. I was suppose to be looking for sandals and Wingyan's suppose to be looking for clothes and Huimin was the one buying things. How ironical. Haha. MOS for lunch and Wingyan had to go off for her early father's day dinner while i had to rush home because my mother prepared steamboat! :D
Wednesday was over to my grandpa's hse. Mths since i've been there and it was hell boring i tell you! Gah! I just sat there watching tv, wasting my time. Bought shoes! YAY! :D But im the one paying, not my mama): SAD-ED!
Saturday was out with the girls to celebrate Rongxuan's birthday! SENTOSA! WOOOOO! Enjoyed myself! Cable car, skyride and dinner at some Jap resturant. Haha. Oh! While having our lunch at Trapizza, people were playing volleyball. I was looking and suddenly i miss vb): Had the sudden urge of playing but i have no ball and because i didnt bring my ball, the rest also had nth to do. Haha. But nvm, we still enjoyed afterall(: Photos nxt time and time check 2am.
I have not started on my assignments. DEAD DEAD. Okay lah i did start abit but that ABIT doesnt make a difference to me. Lol. Sch's starting nxt week and i have to go back to sch on Friday): BOOOOOHOOOOOO): Nvm, steamboat with Regina after that! :D Okay i better be going to my bed.
Good night everyone! :D
❤JOEI!:D 12:56 AM
Sunday, June 15, 2008
HAPPY FATHER'S DAY TO ALL FATHERS!
esp to my father and my father. LOL!
❤JOEI!:D 9:00 PM
happy birthday rongxuan!
HAPPY BIRTHDAY RONGXUAN! :DDD
Hey girl! You are 17 alrd. Glad that you have enjoyed ur day with us ytd. Though it was quite discouraging at first, and it was abit costly. Haha. Happy that you have entered my life coz i guess my sec sch life wouldnt have been as interesting without you! Choir times and the recesses were fantastic! Plus all those outings and studying times at the library. Haha. On the phone till we slp, tgt with ur qin ai de was great as well! Lol. Plus you were willing to meet me coz i was too bored even though you are having tests the next week. So fortunate to have a wonferful friend like you :D THANK YOU for everything. I LOVE YOU MANY MANY! <33
❤JOEI!:D 2:07 PM
Friday, June 13, 2008
boredom!
2nd post of the day! ((: Coz im juz rotting my arse off. Lol. Photos on the 2nd of June which we were celebrating Jarryl's birthday for him with the swensens blackforest! But it melted so its super gross when eating. HAHA.


Antonio trying to act cute again laaaah. Lol.



Digging into the cake by himself! Haha.



















While waiting for our next lesson to start, we took stupid photos lah. Of course! With 2 cameras
ard. Haha.


Because its Nike AIR, that's why it floats. LOL.


NICE! :D Took this picture when the sun's burning okayy!? Haha.

There's actually more photos but after this post, im starting to feel lazy again. Hehhs. So more photos nxt time! Doing my assignment and posting this at the same time. Multi-tasking huh? No lah im juz finding time to slack even more. And at the same time rot in front of the com. Coz some people with no heart juz didnt entertain me, rite MR CHUA?! HAHA. I tell you nxt time you call me i will reject reject reject! Lol. I hope tonight you wont get to slp! Hehhs.
I have to wake up at 7.30am tmr! S-E-N-T-O-S-A here i comeeeeeeeeeeeee! :D
❤JOEI!:D 11:14 PM
HELLLLLLLLLLLLLLLLLLO! Today's friday the 13th!

BORING BORING! One week of holidays gone! I have not even touched my assignments yet. GOSH so DEEEEEEEEAAAAAAADDDDDDDD! I dont feel lyk doing leh! How how how?! Help me please! Haha. My fringe is so irritating. I wan to CUT CUT CUT! My DS siao siao. SO im oso going CRAZY alrd!

Overdue photos! Jarryl's birthday partyyyyyyyyyyyyyyyyyyyyy.


Happy birthday((:


Jarryl, dont blame me for posting this up. Teehee


SPLASH! Into the pool he goes. Disadvantage of having a party/bbq beside a swimming pool. LOL

More photos! But im currently too lazy to post them up. Haha. Nxt time okay? Or maybe ltr. Haha. SENTOSA TMR! CANT WAIT((:
❤JOEI!:D 5:25 PM
Tuesday, June 10, 2008
HAPPY BIRTHDAY MICHELLE! x33
❤JOEI!:D 10:10 PM
Sunday, June 08, 2008
the quiz!
HEYHEY!

Tagged by my dear Yingying to do this and since im currently waiting for Fated to Love You episode 13 to be uploaded, i shall do this. Haha.
1. How long will you wait for someone you love?
As long as my heart wants me to. Hahaha.
2. What do you want to do now?
CATCH EPISODE 13 OF FATED TO LOVE YOU! :DD
3. What is the craziest thing you did for your crush?
Eheh, cant rmb leh. Lol.
4. Do you hate your friends sometimes?
NOPE! I love them too much to hate them((:
5. Where do you wish to die?
I dont want to die yet. I still have many things not accomplished and i still want to enjoy my beautiful life! :D I wouldnt want to think of this question as well. Lol.
6. Do you believe in seeing a rainbow after the rain?
YESYES! (:
7. What are the impossible things you wish to do?
Hmmmmmmmm.
8. Is there something which you wished never happened? What is it?
Never met you before...
9.Are you happy with your life now?
Hmm. Can say so coz i have a wonderful class but i have tons of assignments!-.- I have FABULOUS friends toooo :D
10. What if your crush asked you out?
Me?! Impossible. Lol.
11. What will you do when you feel bored?
Play games! Talk cock, sing song play mahjong. HAHA.
12. What feelings do you hate the most?
Ehhhhhhhhh. Oversensitive? Dunno.
13. Do you cherish every friendship of yours?
OF COURSE! <33
14. What are you looking forward to in the coming weeks?
This week's BBQ + Camp! :DDDDDD
Tag 15 people, list them down at the end of the post.Notify them in their chatbox that they've been tagged.
1. Alicia
2. Felicia
3. Yunqi
4. Rongxin
5. MichelleYEONG
Anyone who is feeling super bored now((:
Okayy im done! Will edit if i wan specific ppl to do. LOL.
❤JOEI!:D 8:19 PM
Friday, June 06, 2008
FINISHED!
HELLO!
I FINISHED MY ASSIGNMENTS
BOTH COLOUR THEORY AND DESIGN FUND!
DIDNT EXPECT MYSELF TO FINISH SO FAST
HAHAHA!
YAY!
HAPPY HAPPY!
WEEEEEEEEEEEEEEEEEEEEEEEEEEEEEE!
IM DONE IM DONE!
I CAN ACTUALLY SLP EARLIER THAN THE PAST FEW DAYS BUT IM STILL HERE.
HAHAHAHA
ANW,
HAPPY BELATED BIRTHDAY LILING! :D
&
HAPPY BIRTHDAY CHERIE! :D
❤JOEI!:D 12:36 AM
Sunday, June 01, 2008
photoshop!
Jarryl's birthday party ytd and i reached home at 12 plus! Nearing 1. Coz he freaking stays in Bukit Panjang. Lol. Met Huitian first and took 1 hour ++ to reach her hse which is oso at Bukit Panjang. !!! All so far away frm me. Haha.
PHOTOSHOP is driving me crazy! Someone help me pleaaaaaaaaaaaaase! LOL. Doing colour theory assignment. Dunno when can i finish it and the wacom is oso killing me! AHHHHHHHHHHHHHHHHHHH.
Photos nxt time((: BACK TO PHOTOSHOP!
HAPPY BIRTHDAY IN ADVANCE JARRYL NG YOU TAKE! :DDDD
❤JOEI!:D 3:34 PM