Monday, April 30, 2007
2 papers down
ahola!
had english paper today and im praying that i will pass. LOL. juz a pass will do. (: after sch wanted to go and see the doctor but the clinic was closed. so went to meet yingying, xinmin, jiayi and joey! haha. when i reached, jiayi and joey alrd preparing to leave-.-haha. so didnt really do much today coz wasnt in the mood. we were at mos then we decided to walk around. haha. and then i came back home. the clinic was opened so i went to see the doctor. LOL.
the cough medicine sucks! so bitter): no choice, coz my cough has visited me for a week alrd. haha. i finished sets and i need help on functions! ): ): ): die die die. gotta go. byes! :D
❤JOEI!:D 9:09 PM
Sunday, April 29, 2007
BOO! :D

went out studying today. im guai! was suppose to study chem today but i ended up doing physics coz i should focus more on my physics since my chem's gone case. HAHA. anw met up with kailin and went tp. went bk. we were talking almost all the time but i still did some qn. hahaha. then listen to music and talk talk talk. decided to find another place which is more condusive. hehhs. went to amk. and we saw alot of peirceans in tp. went to popular b4 leaving that place and kailin was jealous of me. HOHO. went to mac but there's no place so change to kfc. haha. sat down and she made me so hungry-.-now we really studied and she taught me amaths! (: ty. :D yup met khairul and he thought me part of coordinate geometry. LOL! then he left with gina. haha. we continued study and did surds! argh. so messy): then decided to go to hub. she tot me to walk fast. juz walking and dun give way to others coz they automatically give way to you. lol lah. but its true(: reached hub and went down to the fairprice. and then to old chang kee. haha. and went home! :D

i really studied today(: and i was coughing): its exactly 1 week alrd and i hav not recover yet-.-i still rmb i had fever last week. HAHA! ohwell. off to studying english coz there's english paper tmr. tatas! :D

❤JOEI!:D 9:08 PM
Saturday, April 28, 2007
photos on 200407, speech day 07(:
ohaiyo!
i've decided to post the pics taken on speech day. LOL!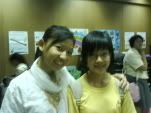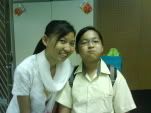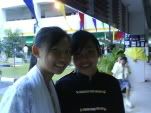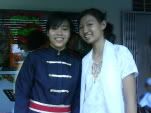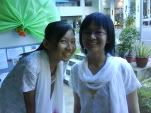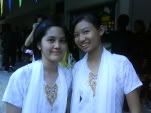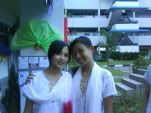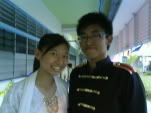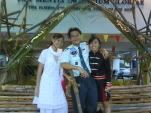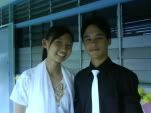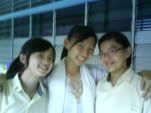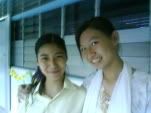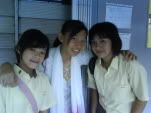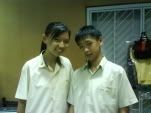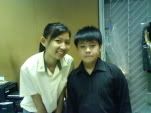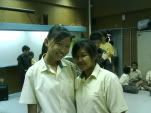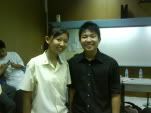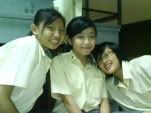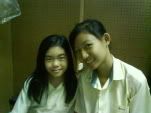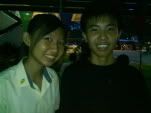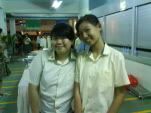 yup. that's all(: hohoho. tatas! :D
❤JOEI!:D 5:38 PM
Friday, April 27, 2007
mt paper
BOO! :D
im gonna flunk today's chinese paper. ): i felt so slpy and i guess i wrote out of point. LOL! after that went home. bathed and came out to meet yingying. it was raining so heavily and that sexy made me wait so long HAHA. waiting for a sexy is my honour. HOHO. an insect kept pestering me. lol. walked to hub. ate mos and wanted to study in the 1st place, but ended up walking around looking at phones. lol. went to mac and decided to study and we did! she taught me amaths and amaths sucks. im going to die man! hahaha. we were hoping not to see any yellow bananas but ended up seeing so many-.- i crammed all those amaths stuff into the stupid brain of mine. hehhs and a little bit got in. LOL!
anw shall stop here. time to DESTRESS! :D till then(:
how would you feel when you hav friends laughing at you when you a ball hit you or asked a qn which you wish to noe?
❤JOEI!:D 7:58 PM
Wednesday, April 25, 2007
wingyan's definition of studying
this is the second post of the day. the reason i came here is to post part of the conver i had with wingyan. LOL!
wingYAN. says:
homework= study

JOEI!(:#12 PERSEVERANCE!says:
to you

wingYAN. says:
study = homework

JOEI!(:#12
PERSEVERANCE! says:
LOL!

JOEI!(:#12 PERSEVERANCE!
says:
means i studied alrd

JOEI!(:#12 PERSEVERANCE!
says:
SS

JOEI!(:#12 PERSEVERANCE!
says:
WAHAHA

wingYAN. says:
i sit on my study table and hold the pen also= study

wingYAN. says:
hahaha
JOEI!(:#12 PERSEVERANCE! says:
HAHAHAHAHA!

JOEI!(:#12 PERSEVERANCE! says:
COOL LEH!

JOEI!(:#12 PERSEVERANCE! says:
ur definition of study!

*burst out laughing* :DDDDD
❤JOEI!:D 9:10 PM
sch sucks
heyya! i came here to destress! as if anyone would believe me-.-
alright. sch sucks. so boring and i nearly fell asleep. the period i love the most was recess and i would feel super awake! :D mrs chang didnt come today and fri's the paper alrd! geog did map reading and i failed my geog ): i didnt expect it though coz i studied real hard for the last test. haha. RECESS! was crapping on my way back to class. youjing go jump lah. hohoho. :DD social studies, did SBQ. she was talking talking talking at the beginning and everyone was lyk so irritated that i heard someone saying SHHHHH. lol. she didnt hear it i guess. lol. last period was english. another period with the fun and laughter! laughed alot. coz of all those crappy ppl spicing up sch life a little. (: after that went back to class help arrange the tables. i did nth but juz cleaning the board and moved one table. HAHA! actually supposed to go home but i didnt-.-went over to e1 to look for yingying they all. the prefects came up and confiscated all the files, textbooks and the tys. to those whose books got confiscated, good luck! :D and i still went home in the end lah. LOL!
so here i am now. talking to myself on blogger once again. damn dumb i guess. i should try to pen down in a diary? lol. which i doubt i'll ever hav the time to do that. and mt paper is 2 days away! wad am i doing? still slacking and treating as if nth's happening. argh. and there's phy test tmr. can you believe it? we dun even hav enough time studying for the other subjects and pop, there's a test tmr-.- alright. i shall now get back to my books whuch is on the shelf waiting for me alrd. :/ so lonely.
toddles.(:
❤JOEI!:D 3:34 PM
Tuesday, April 24, 2007
australian science competition
ohiayo!
i juz came back frm sch. LOL. 1st period was cme. had cme quiz-.-dunno how to do. i did finish and slept. hehhs. nxt was physics and i failed my phy): haix. wonder when can i pass? no matter how i try i still cant succeed. history, did the cresent girls sch paper. wth lah. half and hour complete the source-based. if anyone of us completes it, it will be a miracle! haha. and then was maths. i passed my amaths and im glad i passed coz i expected a fail. lol. but for my emaths): SPEECHLESS! ohwell. BUCK UP(: anw english. pui-bong-.-stupid ppl give stupid ans. HAHA. and there's always so much laughter in english lesson. lol. laugh till my sides hurt. assembly. exam tips. LOL. SMART. S=sleeping, M=making notes, A=always ask, R=recreational and lastly T=time management. cool eh? the presentation they did was so funny as well. hoho.
end of sch alrd but we still hav the australian science competition. its so boring and i bet almost all of us wouldnt be interested in this but we were FORCED into doing this. lol. ohwell. since we hav alrd paid, juz go and shade a few boxes and get a certificate of participation. its expected though. you will be flabbergasted if i ever get higher the COP. hahaha
okay. end here. im off to mugging and doing my hw. i think i'll do that after my dinner. hehhs.
till then!(:
❤JOEI!:D 5:52 PM
Monday, April 23, 2007
changed blogskin (:
i changed my blogskin(: since i was bored so i changed it. LOL! i did it within 15 min! :DDDDD
❤JOEI!:D 9:43 PM
at home the whole day!
HELLO! :D
i stayed at home the whole day! lol. yupyup. though it was boring, i love my waking up time. hehhs. im recovering(: im going back to sch tmr. hoho. ohwell. i juz found out that we need to do the amaths paper!-.-i shall go and do it. hahaha. so bye!
HAPPY BIRTHDAY HUIQIN! :DDD
❤JOEI!:D 6:59 PM
Sunday, April 22, 2007
sick
hello everyone!
today sucks alot. lol. i am sick. down with fever, headache and sore throat! lol. my temperature was as high as 39. its killing me and wadeva i taste is tasteless. lol. anw i wont be going to sch tmr. (: so ppl dun miss me. HAHA. wad am i eating now? PLAIN PORRIGDE!
ohwell. byeeeeeeeeeee.
❤JOEI!:D 2:06 PM
Friday, April 20, 2007
leaving choir
hello!
im currently not in a very good mood now. 1st we got bronze. and to angeline. we alrd expected that so its not ur fault. dun wry(: we tried our very best in the compeition alrd. 15 of us waited in the canteen till 6.30 for the results and it was sucha a disappointment. ohwell. nxt, today is the last performance for the sec 4 seniors. and this is the last day that we will be in choir.): so sad rite? 4 years in choir and i alrd hav the feelings for it. even though i always say choir sucks. LOL. its a normal feeling though unless you are really that heartless.(: performed in the hall and i put in my bestest effort of all. and make this a memorable one for me.(: the time and effort we spent in choir is really irreplacable. i treasure all the times we hav join and fun during our performances, sch exchange, SYFs and carolling. yup.
okay. i shall stop all those emo stuff. LOL. today is speech day. i was late for choir:/ but mr phua didnt scold. hehhs. changed and got rdy for the performance. we stayed in the canteen for quite a long time. we get to watch part of the parade. LOL. and we went up to the hall. started performing and i can say we did well! :D rushed down to the canteen. decided to go up and watch but there isnt anymore space. ): and i didnt even get to watch the speech day concert throughout my secondary sch life! nvm. then started goin around taking photos. took hell lots of photos but im lazy to post them hehhs. went to change into my uniform and slacked in the choir coz we wasnt allowed to move abt. then we requested mr phua to play 'i write the songs'. we sang! missed the concert 'music in motion'. that was my very 1st concert which i performed in(: and it was so fun to see everyone singing to it! :DD then after the vip was in the atrium, we went to the canteen and slack. went back to the choir room to take our things coz mr phua had to leave. haha.
me, yingying, rongxuan and xinmin went to amk hub. sat in mos for almost an hour coz we bitched quite alot. hehhs. so fun. went to art box and then fairprice. i wonder if im crazy anot. i wan to make myself lose my voice. haha. anw im alrd having sore throat(: then went home so here i am blogging.(:
i will post all the photos nxt time. 30+ leh. will be super bored looking at them. haha. ohwell. time for me to go but b4 i go,
HAPPY BIRTHDAY TITUS, MY DOG! :DDDDD
❤JOEI!:D 10:32 PM
Monday, April 16, 2007
monday blues.
OHAIYO! :D
went to sch and had 3 periods of maths. so boring. okay. lets start for the beginning of the day. double maths. did some differentiation. nxt was english. it was reading period and i almost fell asleep. :/ but i didnt! :D cme. laughing period. haha. there was so much fun coz mr song was lyk talking abt his JC stuff which he was embarrassed abt. LOL! then chinese. chinese test and im gonna flunk it. i knew nth abt this test until this morning.-.-huang lao shi didnt come today. haha. last period of the day! :D maths again.-.-did filing and ms ng was so angry with us. nvm abt that. after sch there's 2.4 run!):
okay. stayed in the classroom and then went out to eat. haha. came back and we were scolded. the whole sec 4. haha. coz we were late in reporting. and then we went for the run. wasted our energy walking to the park. and ran. my stomach was hurting lyk hell so i had to stop for so many times. i doubt i will get my targeted timing and i might fail! ): sigh. ohwell. wadeva is done is done. it cant be changed anw. (: yup. walked back to sch and went to buy bubble tea! HOHO. coz i was very thirsty. hehhs. came home and here i am, talking to myself on blogger.com HAHA
tatas! :D
❤JOEI!:D 7:29 PM
Sunday, April 15, 2007
sundays are boring
hello everyone!
i spend the whole morning watching tv-.-rah! im so bored now. i havent done a single hw yet. hehhs. and im having a headache.): why? i dun feel lyk slping. haha. anw. this will be a super short post.(: so byeeeeeeeeee.
❤JOEI!:D 2:54 PM
Saturday, April 14, 2007
sports day!
heyya! :D
hadnt been blogging for a week alrd. i was too busy. lol. had sports day ytd. played volleyball. (: but we still got 2nd-.-ohwell. at least we tried. haha. after sports day rushed to nyjc's concert. okay lah. not bad. hahaha. i prefer the 2nd part than the 1st part. hehhs. they sang may it be. lol.
i dun wanna go into details coz im lazy. hoho. alright. took some photos. post it nxt time or rather later. (: there's choir later-.-okay. toddles! :D
/edit
here are the photos.(: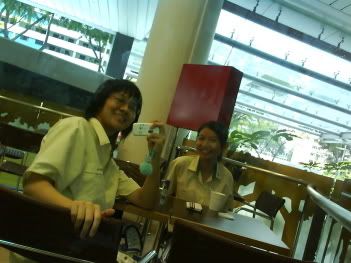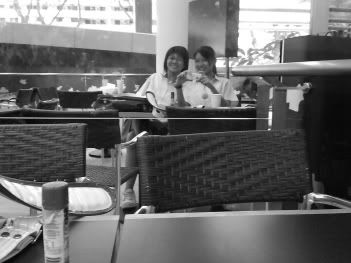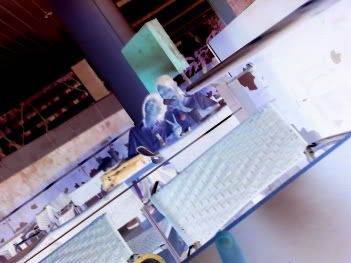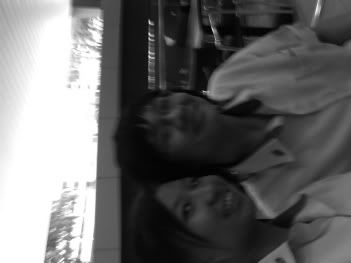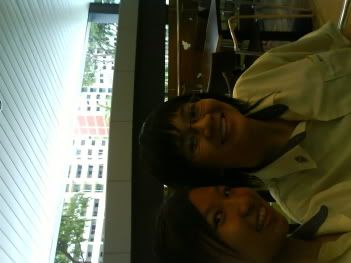 we were at amkhub's mos. LOL!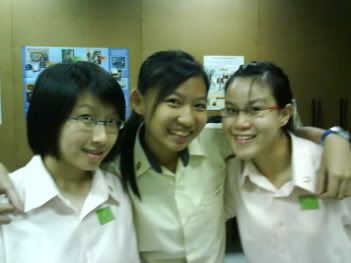 jiahui and clarabelle! :D
joey and joei! :D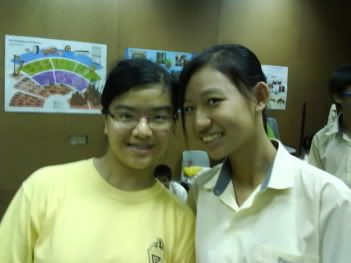 jiayi! :D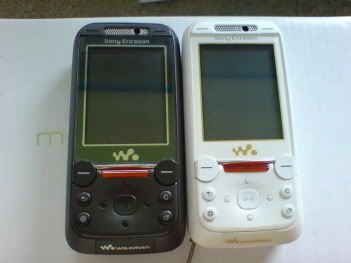 joey's and joei's phone. blackVSwhite. :D
sports day photos.
alexis.(: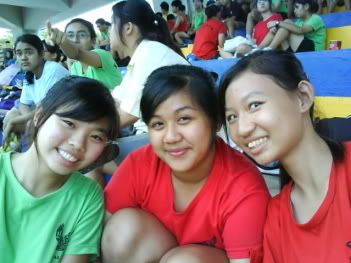 si san ba HAHA.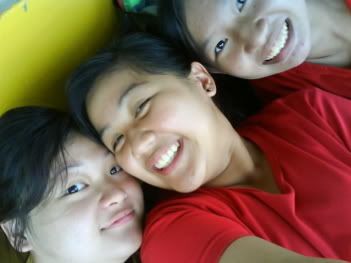 we lie all the way down. LOL
zhengrui the stupid naggy EX-president. LOL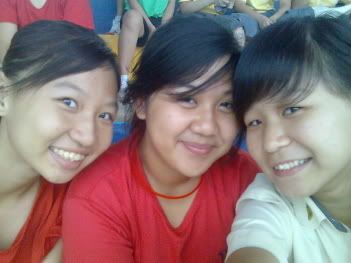 nicole!
after the concert.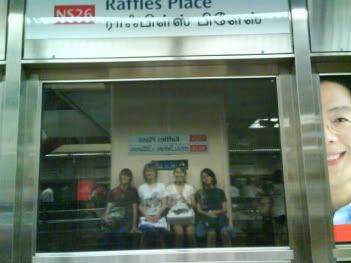 we were at raffles place mrt station. hahaha.
❤JOEI!:D 10:30 AM