Saturday, March 31, 2007
out with hweizhong and liling!
OHAIYO!
the high me. hoho. juz went out for dinner with hweizhong and liling! :D long time didnt see liling alrd. lol. we ate pasta. it has been a really long time since i was on time. LOL! we were talking and laughing coz the both of them very funny. liling's carrying my dream phone. ): ): ohwell. after that went amk hub walk around. look at phones. ah! that phone! ): ): ): then we were still suanning hweizhong. sad lah. hoho. then liling suggested to walk home. so we went to buy ice cream 1st b4 walking. walked to the very last bus stop of the whole stretch of pavement b4 we split up. liling walked home while me and hz took 261. we took only one stop. LOL. then hz accompanied me home and he went home.
liling and joei's pte ltd! officially opened on 310307. HOHOHO. this is to ject hz. recruiting ppl who would lyk to ject him and our company can expand. HAHA! alright. byeeeeeeeee.
❤JOEI!:D 10:19 PM
so many things happenning
ohaiyo.
so many things happening around. all the ppl getting emo, sad. haix. wad's happening? ): wad can make me happy now is that all my frens getting back all their real smiles and laughters. yup.
should i go later?
❤JOEI!:D 5:09 PM
Friday, March 30, 2007
TAM HUIYUN THE BITCH
hello!
alright, this blog is to that somebody. i can always put ur name if you wan me to. seriously.
okay. being with guy friends is so much enjoyable. you noe why? coz you dun hav any girl friends to go with. and out of no choice, you had to go find the guys. i might be wrong but this is wad most of the ppl thinks. hmm. to the 2 zhabors. i noe one of them is me. you can always put my big name there. (: you sure you are born emo? things can be changed. juz that you wan it anot. and are you willing to do it. if you are losing interest in choir, wad for come? wad for carry on singing? choir doesnt need you anw. and if you tink you are that impt, you are NOT. stop showing off that you are the president. so wad? its juz a stupid post. im not jealous of you coz i dun fancy posts. all i wan is juz to be a member who has nth to wry abt. changed? are you sure you changed? if you changed, im sure this wont be happening to you. and back to reality, a leopard nvr change its spots. sry but im not bias against sailing. its juz that we cant stand you always talking abt sailing sailing sailing. to us, you ARE trying to showoff again. wad's so good abt sailing? its juz a sports. which everyone can do it if they wan to. so need not show off. noe why you decided to study? coz you dun hav friends who would always be by ur side joking with you and comfort you when you are sad. so you hav no choice but to study. if hate hypocrites, dun be a hypocrite urself. wad for show that you can be a leader? wad's the use of that? its juz an extra tie and pin. so? wad diff does it makes? we are still human beings. you might be doing extra job at the back but its ur own choice. nobody forced you to. singing sucks so? need not comment it out coz if you singing so loudly, everyone can hear it. if you hate going to sch, dun go. nobody's forcing you. how sure can you be that there are more ppl liking you than hating you? but the fact is, more ppl DOES HATES YOU. juz that they dun show it out as much as i did. i noe ppl hates me as well and that includes you. i dun deny and i accept the fact. you cant force the others to do the same thing back at you if they dun wan to so forget abt it.
okay im done. i noe its obvious but i dun care. and im really bursting out. thus, i might be the only one against her but it doesnt matter. im not willing to talk abt it anymore. and i juz wan her to get the facts rite. i might be wrong, but i will accept it if im wrong. mayb to her im wrong, to others im not. (:
till then.
❤JOEI!:D 9:03 PM
Wednesday, March 28, 2007
i so hate the prefects.
heyya!
i juz cant resist the temptation of the com. hehhs. i went to study at around 8 but the com is juz too... ... irresistable so i came back. hohoho. haix. so many things to do lah. and i so hate the prefects! wad's so good abt that tie and pin and being named as a prefect. this will make ppl hate you more. seriously. im not refering to my class' prefects. that is to some other ppl. (:

had 2 periods of writing today. -.- coz there's ss test and eng compo test. and both tests are nxt to each other. wrote till my hand ache. ): but its okay now. hehhs. (: had choir and had loads of fun laughing and crapping around with titus, yiqi, annie, alexis and peiqin. haha. pinned the scores on the back of the person in front. lol lah. so funny. and syf's on 19th apr! we might hav to wear sch shoes. wth lah. him and his kuku idea. and he got the approval of mr sim saying that we need not go for our sports cca and go for choir. argh. RAH. in fact, i actually planned to go for trng tmr with alexis. damn suck man!

ohwell. time for me to return back to my phy. doubt that i will be able to pass that freaking test tmr coz i seriously noe nth abt electromagnet effects! so sad rite? coz i dun pay attention to his lessons. :D and he only informed that we hav a test tmr on tues. sucha short period of time and i was pondering whether he did that on purpose.

till then.
❤JOEI!:D 8:45 PM
Monday, March 26, 2007
yingying's sad.
ahola!
sch's suck. super sucky. chinese was being nagged nagged nagged. had emaths test and im gonna flunk it. ): history lesson's always so fun. how i wish there's double period for history and it wouldnt be so boring! hohoho. 2 periods of chem and we did practical. and we hav alrd done it b4. juz wasting our time lah. -.-
after sch went to find yingying and meiting. so accompanied meiting till she has to leave for band. and then on our way out, we met mr phua. yingying waved to him and he reminded me that he still owes me a pizza. hohoho. then he treated zhengrui, kahhwa, yingying and me to a drink at the hawker behind the sch. had loads of fun crapping around. and we were lyk recalling who are the teachers who jay walk. hahaha. then
mr phua asked: 'whats the best way to insult a person?'
our reaction: 'huh?'
mr phua: 'its to call the person's name.'
and then he added,
'zhengrui, im going to insult you this very moment. zhengrui.'
hahaha. you might not find it funny but i do. coz we were at the spot. lol. and then yingying accompanied me to eat. ate mos and yingying was so sad. ohwell. then we went to walk around and finally went home. i missed 3 261 bus coz she didnt wan to go home so early. lol. and we crapped alot. hohoho. and finally went home. :D
okay. lastly, to brainwash tay. (:
cheerup and dun be sad. not worth it. dun even tink abt it and, put on ur bestest smile in sch. smiles. cheers. :D
❤JOEI!:D 7:36 PM
Sunday, March 25, 2007
photos on 23.3.07
BOO! :D
hehhs. juz came back frm my grandfather's hse. nth much happen. this is the 2nd post of the day and the main objective is to post the rest of the photos taken on 23.3.07. lol. so i shant crap much abt my grandfather's hse. (:
here goes. :D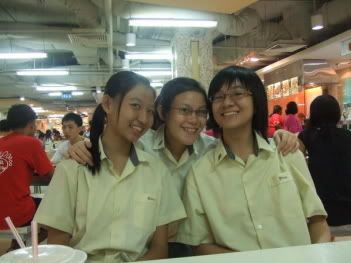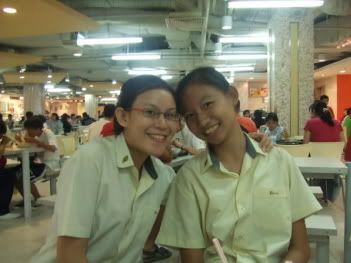 in food junction. lol.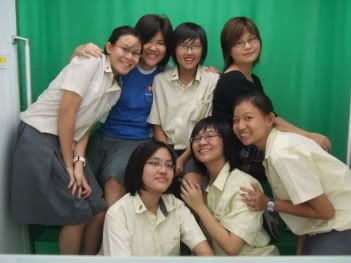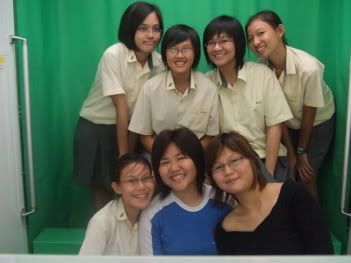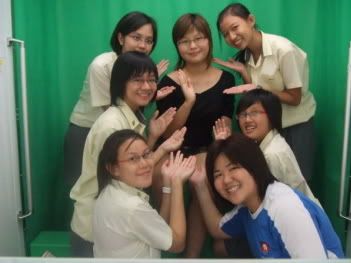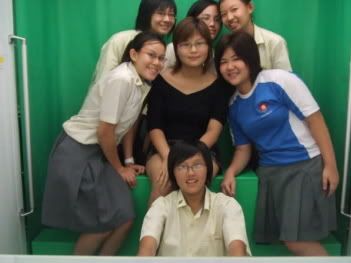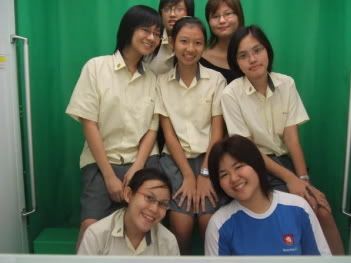 in the neoprint shop. haha. we had nth to do and didnt wan to waste anymore money taking neos so we juz use the cam instead. hehhs. (: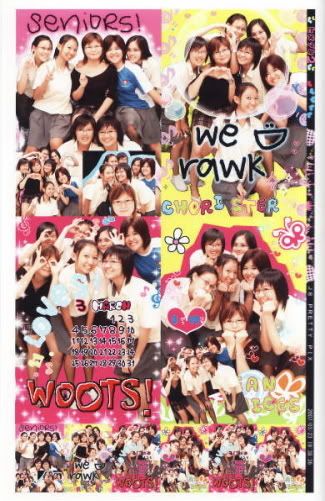 OUR NEOS! :DDDDD
okay. no more. (: yup. i love the photos! :D tatas!
/edit
Sometimes it's wrong to walk away
Though you think it's over
Knowing there's so much more to say
Suddenly the moment's gone
And all your dreams are upside down
And you just wanna change the way the world goes round
Tell me
Have you ever loved and lost somebody
Wish there was a chance to say I'm sorry
Can't you see?
That's the way I feel about you and me, baby
Have you ever felt your heart was breaking
Lookin' down the road you should be taking
I should know
'Cause I loved and lost the day I let you go

Can't help but think that this is wrong
We should be together
Back in your arms where I belong
Now I finally realize, it was forever that I'd found
I'd give it all to change the way the world goes round
Tell me

Have you ever loved and lost somebody
Wish there was a chance to say I'm sorry
Can't you see?
That's the way I feel about you and me, baby
Have you ever felt your heart was breaking
Lookin' down the road you should be taking
I should know (I should know)
'Cause I loved and lost the day I let you go

I really wanna hear you say
That you know just how it feels
To have it all and let it slip away
Can't you see?
Even though the moment's gone
I'm still holding on somehow
Wishing I could change the way the world goes round
Tell me

Have you ever loved and lost somebody
Wish there was a chance to say I'm sorry (I'm sorry)
Can't you see? (oooh)
That's the way I feel about you and me, baby
Have you ever felt your heart was breaking
Lookin' down the road you should be taking
I should know (I should know)
'Cause I loved and lost the day I let

Yes, I loved and lost the day I let

Yes, I loved and lost the day I let you go
❤JOEI!:D 8:41 PM
movie! :D
hello!
okay. had chinese prelim ytd. gonna flunk it. ): sad sad. nvm. went out at night. they wanted to watch haunted sch, ah! i dun wan. so me, yunqi and zhengrui back out. coz yunqi oso anti. haha. and zhengrui wants to watch smth happy instead of scary. yup. so the 3 of us went new york new york to eat instead. kenny was feeling very pissed. sry. walked there and we queue for so long. but nvm. we hav lots of time to spare. (: went in to eat. we were laughing all the way. lol. okay then the bill came and it was $42++ ohwell. expected. hehhs. then by that time they had alrd watched finish the show so we went to find them and they were eating. -.- after that went arcade. watched them play and i didnt play. (: kenny's steering wheel was spoiled and he cant even steer it! LOL! yaorui 1st time play everything eh. -.- haha. then lastly they played basketball. yaorui didnt play and the rest of the 4 guys played. one ball hit yunqi's head. haha. and then went home. walked down the stairs and i felt weird. :/ on the way, all the guys damn disgusting lah! keep doin the stupid action. keep licking! lool. then when reaching the bus stop, yunqi told me she saw 2 along the stairs so my feeling was right. wth lah. luckily she didnt tell me on the spot if not i will freak out. haha. then went home. (:
photos time! these were taken in the choir room. (: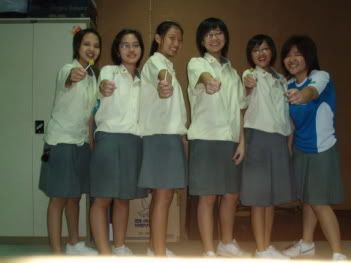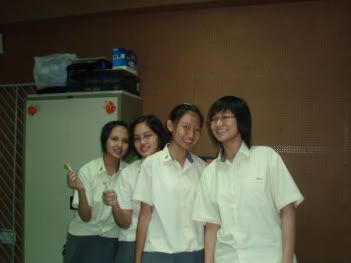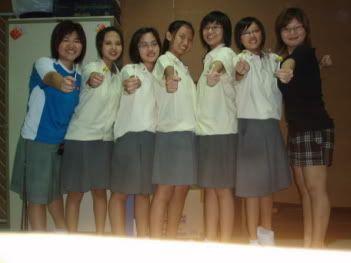 alright. there are still more but i hav not gotten the, yet. yup. gotta rush off to my grandfather's hse alrd. bye! :D
❤JOEI!:D 11:50 AM
Friday, March 23, 2007
flunk phy test
OHAIYO!
not in a very good mood coz i noe im gonne flunk my phy. ): haix. anw. it's been a long time since i update? haha. to me its long lah. LOL. supoose to go for the parent meeting session but dun wanna go since tracy's mum not goin. LOL. coz both our parents suppose to meet the teachers. hehhs. after that went for choir. we juz sat behind and do our hw. luyun and shanyi came back to visit us! :D after everyone had left, we took loads of photos! hahaha. and then went to j8 with them. met up with clarabelle. went to eat and took photos again. -.- went popular and then went to took neos! been a long time since i took it. the last time i took it was 13.1.07. haha. i still rmb. (: lol. then took photos again! lol lah. took so many photos. went home.
i shall post the photos when i get them. :D there's chinese prelim tmr. ): so tatas!
❤JOEI!:D 9:27 PM
Sunday, March 18, 2007
last week of the march holidays
aholla!
its the last day of the march holidays alrd. time is passing by so fast. i havent enjoy a single bit of it. how i wish it would be extended. :/ haha. but as you noe, its impossible as this is reality. lol. its so fully packed! the only thing i enjoyed is the cip. hehhs. i so love those kids. (: i finished all my hw except for chem coz i've seriously give up on it. ): sch's opening tmr! and this means hardwork coming up. jiayou jiayou! chinese prelim coming up too. i will work to the fullest. :D
till then.
❤JOEI!:D 4:20 PM
choir agm
Heyya.
didnt update coz my connection was down again. hehhs.

there's choir on friday! yup. went to sch earlier to help them do the voting slips which is lyk juz tearing the paper into half? lol. yingying was still at home eating roti prata when i reached sch. -.- then zhengrui came. followed by yingying. tore the paper and sat there talking. yup. mr phua was late by 16 min. (: we went into the music room and voted. haha. then the rest of the ppl were being let off for lunch. we stayed back and tabulated the votes. and mr phua treated us to mac! :D after that we went out to buy things for our 'succesors'. lol. and we were late. being scolded. haha. we quickly ate some fries and brought the burger and drink back into the room. the conductor is quite good. haha. during break, we ate our burger. hehhs. went back and continue singing.

okay. then after the professional went, there's the agm! yiqi is now our elected president of the choir. followed by vice-president, vincent. secretary is jessica while the chief librarian is annie. which is oso my succesor. (: haha. sop sectional leader is peiqin. alto sectional leader, siyun. baritone remains the same. haha. anthony. pianist and student conductor is the same person, titus and lastly new post, treasurer, jiamin. yup. the new committee. CHOIR COMMITTEE OF 2007! we passed them their things and then we finally stepped down! haix. but to be truthful to myself. i somehow dun feel happy at all. i juz feel sad. ): even though i've been waiting for this day for a very long time. yup. i juz feel that everything's not right. ohwell. dun ask me why coz that's how i feel. its strange. i dun lyk choir but yet im feeling sad. mayb vivien's right, even though i dun lyk it, there's still some feelings throughout the 4 years that im in choir. yup. okay. nvm. im juz being too emotional. (:

anw forget abt that part. (: went to tp to hav lunch with rongxuan, yingying and peiqin. wingyan didnt go with us. ): alright. ate kfc. hweizhong came and join us. so we sat in kfc for 1 hour plus. talking. hahaha. then went to walk around. and then went home. (:

now photos taken at fort canning 3 days ago! :D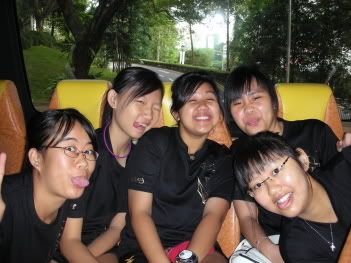 while we were on the bus. (:
i love the kids! :D
hahaha.

4e2! (:
there's still somemore but i havent got them yet. i'll post them when i hav it. (:
❤JOEI!:D 12:14 PM
Thursday, March 15, 2007
class gathering; cip!
AHOLLA! :D
hadnt been blogging for the past few days. reason being, too busy and connection was down. haha. ohwell. (:
okay. ytd had class gathering at seasons park. shocked that i went coz initially i didnt planned to go. hehhs. okay reached there. i was late. :/ 3 ppl waited for me. sry yunqi, huiqin and alexis. dui bu qi. and then we wasnt the last to reach. lol. we started eating coz we were very hungry! eat and eat. talked and den walk around. lastly played the feng shui game. so dumb lah. we couldnt get it at 1st. haha. but still got it in the end. (: went home quite early. coz of the cip the nxt day.
cip! amazing race at fort canning. haha. i noe its kinda lame. BUT i enjoyed it in the end! we reached there and the sun is scorching hot! were briefed and all the gls played entanglement. we entangled 3 times. yay! :D and then we combined for the last time. coz we were separated into 2 grps. we couldnt do it. ): nvm. the kids came and omg! they were so cute! i got 4 kids! and there were so quiet. ): introduced and played the tribal game. yup. and we won 2 times. and the kids started to get enthu! :DDDDD we went to the wrong station twice! okay. ran abt and one of them were injured. ): nvm. i noe she's strong. (: after that had lunch. went back to the race. cherie, alexis and michelle joined us! and helped us. wahaha! and we had so so so much fun. we were actually the 1st, but we missed out 1 clue i guess, we went back to find. we became the 2nd. ): sad. nvm. we still tried our best! :D we went to the place where we kept our bags. then we started taking loads and loads of photos! hehhs. jumping and blah blah blah. gave the kids some things. (: yup. and then debriefed and went home. it was so saddening. ): amanda and nicole cried. i so love the kids i took!
after that went to ps with alexis, cherie and yunqi. we sat down and were laughing at the photos we took coz those were so funny! haha. and then walked around and went home.
anw that's the day. and i enjoyed it alot! didnt go for choir. nvm. i wanted to complain. :/ okay. photos nxt time. (:
HAPPY BIRTHDAY PEIQIN! :D
❤JOEI!:D 10:06 PM
Monday, March 12, 2007
ss workshop
BOO! (:

finally my bluestarsian lvl-ed. haha. after so long.

okay. had ss workshop this morning. it was BOREDOM! :/ nvm. den after that had cip briefing. was being grped with 2 gays. ohwell. they are kenny and yaorui! hahaha. nvm. im satisfied with it. (: den went home. when i was abt to reach home, vivien called me to say that there's history. wth lah. if it wasnt for some KUKU who wanted to change the day for history, i wouldnt hav gone home. argh. and i wouldnt hav to wake up so early in the morning alrd lah. 6 plus eh! ):

okay. my hse is gonna be toilet-less for 3 weeks! 3 WEEKS! hahaha. but not now. is somewhere in july i guess. because of the upgrading and they are building a small room behind. and i noe its gonna be super noisy when they need to knock of the wall. imagine surviving without toilet. lol. but there's always the temporary toilet downstairs which is lyk so ma fan. ): nvm. hahaha. gonna go.

till then! :D



p.s my blog's so plain without photos. ): and its dying soon!
❤JOEI!:D 4:50 PM
Sunday, March 11, 2007
ah gong's hse
BOO! (:
im currently very tired. ): i slept at 1 plus ytd and woke up at 7 plus today. lol. but im still able to hold on. (:
anw i juz came back frm my ah gong's hse. yupyup. it was... ... boring lah. duh! hahaha. i nearly slept. :/ but i didnt. LOL! i brought my hw to do. and guess wad? i used 3 and 1/2 hours to complete ONE source-based.(: see im so pro. LOOL. who cares lah. at least i finished rite? say right! :DDD but all crap. i watched my relatives gamble. and its lyk wth lah. hahaha.
now im here blogging. *yawn* i still hav to go sch tmr. and its sucha hectic week! so many things so little time. ): hw hw hw. its lyk a pile. okay. i will complete it. and i will buck up! (:
❤JOEI!:D 7:51 PM
Saturday, March 10, 2007
out with brainwash tay. (:
ALOHA! :D
i've neglected my blog for quite a few days alrd. mainly because with my hw. hahaha. im hardworking! :D
i juz reach home. i was out with yingying. haha. she wanted to get her wallet. we went to raffles city. nth much there. so boring. after that we went to marina square. she went there last sat. hahaha. we went to ripcurl. and she finally found one wallet she liked after she went to so many places. we saw adrino. he's so damn short. shorter than the both of us. we den went to the wallet shop. i bought my pencil case and i wan that bag i saw!! LOL! after that we went to long john's to eat. sucha a long queue and i was made to queue! she's so good! hahaha. ate and then went to walk around. went to minitoons coz i wanted to buy hairband. when i was queueing up, wang jian fu was in front of me. haha. we didnt notice until he turned around. he was wearing sunglasses and his perfume smell so damn bloody strong lah! hahaha. we are almost the same height as him. (: (: (: decided to go to the IT show at suntec. it was so crowded! typical singaporeans squeezing here and there. i wanted to get my earpiece coz i've been using my sister's earpiece for almost a month! and she didnt noe. hehhs. it was SOLD OUT! wth lah. ): sadness. haha. nvm. we den went home. the 1st 133 came and we didnt take. the 2nd 133 came and we didnt take as well. coz we wanted a double decker one! the 3rd 133 came and we took! even though it wasnt a double decker. it was so so so cold. and i was slping. :/ very tired lah. hahaha.
yupyup. my saturday! i havent show my report book to my mother. im afraid that she would scold me. ): and holidays is not the holidays. i hav to go to sch everyday. lyk wth. -.-
monday: social studies workshop and history lesson

wednesday: geog lesson + geog test and choir
see? its fully packed. haha. and there's tons of hw waiting for me. ): sigh. nvm. i will work hard to get into my dream JC!
❤JOEI!:D 10:52 PM
Tuesday, March 06, 2007
i hate prefects
aholla! :D
i had my check up this morning. ah! i dun wan! my backbone was indeed curve. but juz slight one so im counted lucky? haha. but if it gets any worser, i might hav to wear the cast which i wouldnt want it! ): okay.
i rushed back to sch. history lesson, watched the movie which i dunno wad is it talking abt coz i only watched it somewhere in the middle. haha. recess and some ppl juz hav to spoil the mood. suck lah. prefects lyk to hold their noses high up in the air. wad is this man? wad's so good abt having that tie and the pin? prefects are suppose to show good example right? and yet they are so rude. shouting across the corridor and calling us sec 4s, OEI. wth. im not trying to show off here. but they should at least tell us politely and show some respect? argh. if you wanna complain to mr ong, we can oso complain you too. (: alright. enough of those. maths and english. as usual, boring.
after sch went to mac with cherie. ate and then went to walk around. headed back to sch and had training! it was fun! :D but the normal drills wasnt fun but i still joined in. (: hehhs. when they were having their 2nd water break, we did some servings. and i can serve over alrd! :DDD continously. haha. congratulate me. LOL! and then had a match, a 5-point one. yupyup. and when it was my turn to serve i cant do it. ): ohwell. but overall its still fun! yeah! :DDDDD went back home and its raining. ):
i love wednesday coz lessons end early! i hate wednesday coz there's choir. hahaha. im contridicting myself once again. -.- singing is an onerous job. its not as easy as you tink! and our conductor had some sort of lung infection so he cant come. i wonder how are we gonna survive thru the syf without a conductor. haha. and im down with flu. ): so sad lah.
❤JOEI!:D 9:42 PM
Monday, March 05, 2007
lalala
OHAIYO! (:
i hav juz finished my hw. see im so guai. not i guai. is i muz start working hard for the upcoming Os. i wanna make it to AJC! but i doubt its possible. haix. nevertheless, i'll still work towards my target. :D
sch as usual was boring lah. had attire check again. hair. my hair is always neat and tidy! :D hehhs. then mother tongue. talked abt zuo wen again. sian. zuo wen zuo wen zuo wen! im goin insane because of zuowen! lol. double period of maths. today was emaths. and had a test on transformation. im gonna fail it. failing is quite a common ting for me alrd. ): that's not a good ting. recess! stayed in classroom and eling told me that she overheard mr song and ms noor saying that my parents needs to come down for the meet-the-parent session on 23rd mar. which means im bad. ): ohwell. im willing to accept the fact that im not a person who can study. (: but look on the positive side, i MIGHT be good in some other tings. MIGHT. history! the lesson i;ve been waiting for. missed one month of history lessons alrd! and i lyk history. :D mr shahul came in. but we still treated as if nth has happened. juz that we are a little quieter than usual. haha. CHEMISTRY! ahhhhh! test! its double period. and yet he chose to go thru some other tings in the 1st period instead of goin thru for the test later. -.- im gonna fail yet another test again. but with the help of vivien, i might be merely getting a pass? which im alrd very satisifed with it. (: TY VIVIEN! :DDD sucha miracle that i wanted to go home straight after sch. lol. and i ps vivien. :/ dui bu qi.
im goin to sch late tmr. reason being i hav a doctor appointment at HPB! ahhhh! my backbone! ): ): ): i tink its alrd getting more and more curved. ): i dun wanna wear the cast ting. its so... ... kuku. haix. i dun wanna face the reality. i juz wanna run away frm it and not accepting the fact that my backbone is getting worse and worse each day. ohwell. nvm. i shall hav to accept someday. its juz a matter of time. uhm. im still a happy person! :DDDD
till then! :D
❤JOEI!:D 8:52 PM
Sunday, March 04, 2007
joei's a happy kid! :D
BOO! :DDDDD
yay! im currently a very happy person. congratulate me everyone! haha. but not very happy because of my results. lol. nvm. i shall work hard for it. and i've been lazier and lazier to update my blog. lol. firstly i wanna apologise to hongguang coz i didnt go to his chalet and went to alexis' party instead. very sorry.
haha. okay. ytd went to alexis' party. its was hell fun! :D i met up with cherie and win. LOL. i was late. coz it was raining heavily and there was a jam. sry. went and some were alrd there. there were singing. we sang some songs and soon more and more plp joined us. SWAYARH! go there oso will see kenneth. hahaha. we sabo alexis and win to sing a duet song and win wanted 100 points and in the end he got 4 points. -.- LOL we den went down and bbq. i juz sat there. =X and after eating. me and cherie went to play the swing. haha. deprived of childhood. LOL! but who cares? hehhs. nxt we saw kenneth and daniel playing in the basketball court so we went to join them. we played abc. i teamed up with daniel and we won! YAY! haha. den the others came to join us. so we played 'match'. 2e4/05 won. we rawk! :D den went to cut the cake. alexis was being pushed into the pool alot of times! :DDDDD hahahaha! so funny den they smeared cream on her face. yup. hav lots of fun! and plyed blackjack w/o money. haha. and den went to the swing again. LOL kahhwa help me and cherie to go high up! (: and then shangchuan had to go off alrd so i went home with him lor. he paid the cab fare which was lyk so cheap lah. $6.50. hahaha. cheap rite?
okay. i finished my hw and mircale happened! i did amaths and phy hw leh. LOL and hell the stupid zuo wen. used up more than 2 hours of my time coz i was talking to youjing, playing maple and doing at the same time. hehhs. okay. im gonna study my chem later. haix. i hate chem. there's emaths test tmr too. ): sian. im gonna flunk my chem and i failed so many subjects. ): ): ): nvm. im still a happy person. :D
HAPPY BELATED BIRTHDAY HONGGUANG! :D
❤JOEI!:D 6:22 PM
Friday, March 02, 2007
happy birthday alexis!
HAPPY BIRTHDAY ALEXIS! :D
❤JOEI!:D 10:54 PM