Wednesday, May 30, 2007
wing wong wong(:
since i've been requested to dedicate another post, i shall do it. this is for the sexy wing wong wong :D
WINGYAN:
boohoo! wingyan is sucha beautiful girl. always cheerful and reminding ppl life's abt happiness. seldom would you see her down. but she cried once coz of us): but nevertheless, we still enjoy each other's companion(: yup. my er ren shi jie partner. HAHA. yea. laughing is her job i guess and always 'koping' ppl's food, tsk tsk. and she is always hungry too! eat and eat and nvr fat-.-ohwell, i love wingyan too! LOVES! :33
❤JOEI!:D 8:02 PM
brainwash tay(:
since the self-proclaim cute person dedicated a post to me, i shall dedicate one to her(:
YINGYING:
yes, you are there for me when i needed you. haha. and everytime i go out with you, we are bound to see some famous ppl be it actor or actress or even some campus superstar/jue dui superstar ppl. LOL. yup. ty so much! :D my emo partner aka my entertainment partner. HAHA. yes, we oso hav to work hard for our Os and not be some ppl who are being looked down. go ask ur TT questions and make her die(: teehee. and you gotta teach me after that. HOHO. anw LOVES! :33
till then(:
❤JOEI!:D 7:03 PM
isolating myself :D
HELLO!(:
yes, its a brand new day(: im gonna isolate myself for one week, so dun call me out. HAHA. i noe this is crazy but its cool. teehee. but, you can always call and talk! :D sry to yingying for not going out with you, sry hweizhong for not able to accompany you to vivo, sry to vivien, quanyin and cherie for not going out to catch a movie with all of you and lastly to cherie for not going ur church. haha.
anw i stayed at home the whole day(duh) and was playing the com most of the time. lol. im returning back to maple(: and i kept laggin out): yup. was walking around korea with rongxuan and we went to do the goblin quest which is so cool! haha. you juz put one food there, and it gets summoned(: CHEERS. and the stupid rice sack quest is driving me crazy man! GRRR. 300 and i've only 101-.-yes, it sounds pathetic. haha.
looking forward to the chalet nxt week! :D but i noe my mood will spoilt by SOME ppl. teehee, ignore that. they dont make any significance to my life. haha. alright, shall end here. BYE! :D
/edit
btw, emily introduced this song to me. its super nice :DDDDD
❤JOEI!:D 9:46 AM
Tuesday, May 29, 2007
151th post(:
hello everyone!
hahaha. this is my 151th post. teehee. anw ytd's chinese sucks. i dun wanna retake. and the setters are out to make us die. lol. ohwell. its over anw. hahaa. so dun care(: i hav nth to talk abt so i shall end here then. bye! :D
my charger's officially spoil):
❤JOEI!:D 9:25 AM
Thursday, May 24, 2007
sadness):
hello.
had parents meeting session. ms tan made me cry. but i held back my tears. argh. ass ass ass): and plus she talked for 1 whole hour. then nxt is mr song. yes i needed to wait all thanks to SOME ppl who juz cut my queue in seeing mr song. wth! luckily, the praises that mr song said sort of made me a little better. yup. but its no use! ): ): ):
pls dun make me angry or wad! if not i will scream at him or her! and how i wish my parents would juz shut their mouths! if studying is easy, go study for my behalf then. alright, bye.
SHUDDUP!
❤JOEI!:D 7:58 PM
Wednesday, May 23, 2007
photos post(:
hello.
im here to blog some photos. and chinese Os on monday. sigh! jiayou everyone! :D
tracy did this. its a mixture of sundae chocolate, curry sauce, coke, chilli sauce and ice. haha.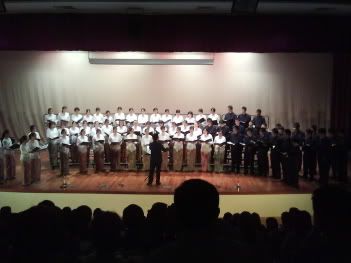 YJC's choir(: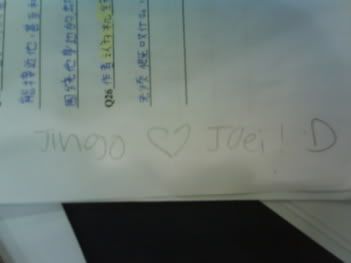 jingo loves joei! :D
but jingo sucks =X hehhs.
she said im cong ming! :DDDDD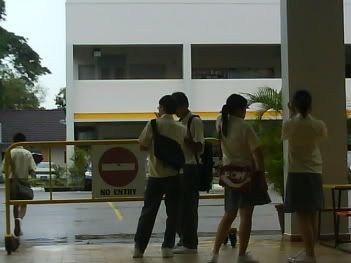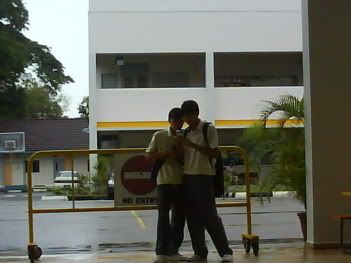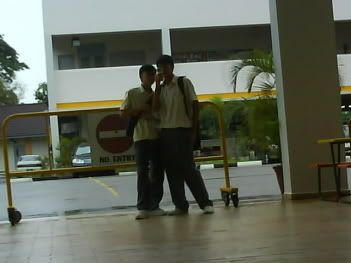 GAYING! hahaha.

(: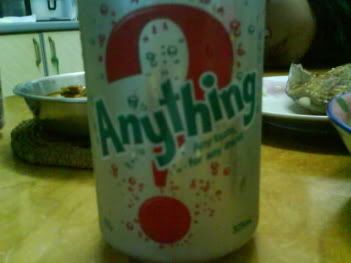 ANYTHING! this is nice :D
this is not so nice):
okay im done. bye!
❤JOEI!:D 7:27 PM
Monday, May 21, 2007
amk hub
heyya!(:
intensive mother tongue starts today. although its only the 1st day, im gonna crrraaazzzzzzyyyyyyyyyyyyyyyyyyyy. its so boring. and do you noe that you can actually fall asleep. luckily youjing the bastard was there to entertain me. hoho. and there's mock exam paper 1. i was writing crap all the way. haha. im oso trying to make it look as long as possible(: anw sch actually ends at 1215. BUT we were asked to stay back. wth lah. do some zong he tian kong. so we can practice-.-wad kind of logic? im gonna go insssssaneeeeeeeeeeeeee :D
after that went to hub with tracy, emily, yingying and xinmin. had lunch at wow!noodles. sad the BUTTERBUTT. the sucker. anw we sat there for a long time. we were talking abt our primary sch lives. where we were young and innocent, not knowing anything and are cheerful. primary sch life is so much different frm secondary sch life. pri is such carefree whereas sec is (undescrible) haha. ohwell. we talked frm our sch facilitites to going into boys toilet to how we use to play among our classmates to sexuality education to health checks and lastly to AHEM. hahaha. so fun and had so much laughter. walked around and went home(:
i wanna go this year's ndp! the balloting has started! go go go. and im gonna go lunatic with the drilling going on UPSTAIRS! i oso wan a new charger for my laptop): i lost my chinese dictionary!): lastly, to my friend, dun give up the whole forest because of one tree.[im juz repeating exactly wad you said to me the other time(:] alright gotta go! till then! :D
❤JOEI!:D 5:20 PM
Sunday, May 20, 2007
my charger's spoil)):
ohaiyo!
its sucha boring day today! watched tv all the way-.-gotta prepare for tmr's mock exam later and my charger's spoil): i hav problem charging my laptop and its so irritating lah. lol. shall bear with it then(:
till then! :D
❤JOEI!:D 2:05 PM
happy birthday quanyin!
hello! its past midnight alrd(:

HAPPY BIRTHDAY QUANYIN!

i HATE steffi tan wanlin! if you are wondering who is she, she's my effing sister.
❤JOEI!:D 12:45 AM
Saturday, May 19, 2007
I HATE MY SISTER
aloha!
went to YJC's concert last night. it was alright except for the 2nd part :/ i absolutely hav no interest in the 2nd part which is after the intermission. HAHA! met up with yingying and took 169. so lucky that no peirceans saw us when we pass by that freaking bus stop. LOL. we were almost late but in the end we were still on time(: rongxuan, huimin and xinmin came. so we took a cab down to YJC. they started singing. and we saw chiobu! yingying's favourite. hahaha. then we started crapping in the middle of the concert hehhs. who cares lah. haha. after that went to long john silver. ate and huimin's parents drove us home :D
I HATE MY SISTER!

she's lyk ruling the whole house. talking till wee hours when i wan to slp. comeon lah. her voice is so loud and talks so loudly. even when she went to the kitchen to talk, i can hear everything clearly. argh. was so damn pissed with her. this morning she was lyk screaming at me when she's at fault. feel lyk giving her one tight slap. if she continues doing that, my hand is going to give her that bloody slap(:
alright, shall stop here. bye! :D
❤JOEI!:D 10:12 AM
Thursday, May 17, 2007
new blogskin + lousy results.
hello.
im currently not in a very good mood. my results seriously suck but i really hav to be thankful coz i passed my english. yupyup. i expected a C6 but i got more than i expected!(: and as for the rest, all below my targets. say that im pro!(: anw i alrd told my parents to be prepared to see the teacher. and there's intensive chinese lesson starting tmr!): ohman. hard work doesnt pay off in my case):
ohwell. i juz change my blogskin(: though its pink, i still love blue as much! :D toddles!
❤JOEI!:D 5:03 PM
Wednesday, May 16, 2007
joei is dead!(:
JOEI'S DEAD!(:
❤JOEI!:D 7:41 PM
Tuesday, May 15, 2007
spiderman3 :D
HELLO ppl! :D
woke up at around 9 plus and it still raining. so shiok. hehhs. i played the com till i forgot the time. and i had to meet at 12 at j8. being the normal joei, i was late. hahaha. but im not the latest! :D the earliest was emily and yunqi. when emily reached, she called me and i was still at home. LOL! anw i rushed to take the bus. met felicia and alicia on the bus. they were late as well. HOHO. huimin missed the bus we took. coz when we juz board the bus, she msg me saying she's waiting for the bus. LOL lah. haha. huimin reached and we went to kfc. yingying msg me saying she was still waiting for bus when we were in kfc. hahaha. and we forgot all about xinmin! we did not buy her tickets. we rushed up and luckily she get to sit with us. LOL. she came and then we went to walk around. and then time was up so we went to the cinema. watched spiderman 3! it was nice and the ending was so touching. LOL. BUT, 200 pounds beauty is still much much better! :DDDDD there were so many frightning scenes and got shocked quite alot of times. haha. after watching went to the arcade, had a few games and i went home.
yupyup. that's all. lol. toddles!(:
❤JOEI!:D 7:12 PM
Monday, May 14, 2007
end of exams!
HEYYA! :D
today's officially the end of SA1. hoho. lyk finally after waiting for so long. this shows that chinese Os is coming. haha. anw had chinese listening compre and english oral. my examiner was mrs yau. omg. i was so nervous and i was mute-.-ohwell. its over anw. hehhs. yea! and after that being the big shot me, i was waited by ppl again. haha. coz im always at the back because of my surname. cant blame me(: went to amk hub with yingying and xinmin. we juz walked around and came home. when can amk hub not be so cold? LOL.
again, some random photos :D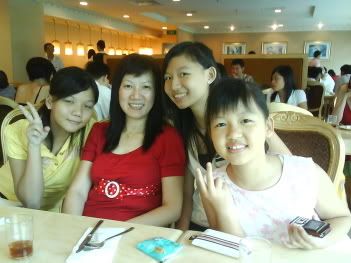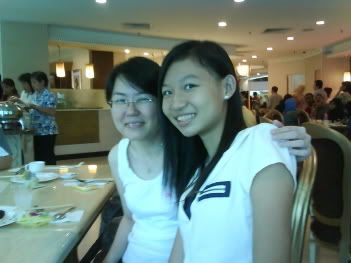 taken on mothers day(: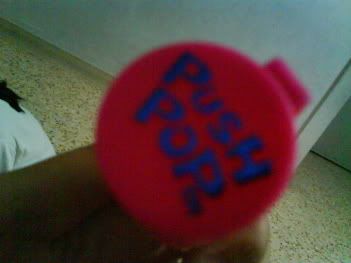 PUSH POP! :DD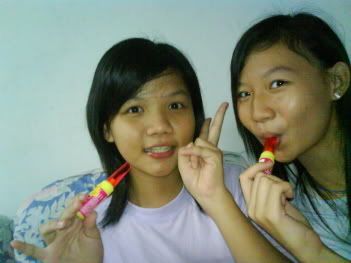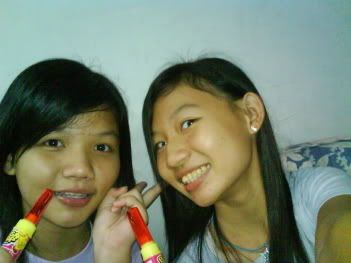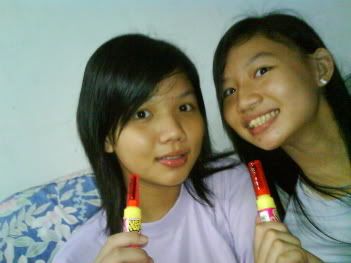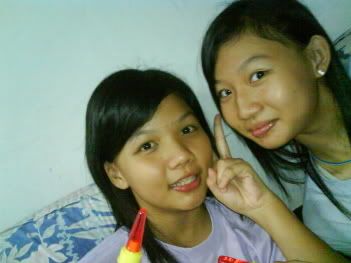 took all these when we were so bored. HAHA
lastly, POUT. hehhs.
done. tatas! :D
❤JOEI!:D 8:03 PM
Sunday, May 13, 2007
happy mother's day!
BOO!
today's mother's day. went to a restarunt for lunch. dunno which family buffet restarunt. haha. eh. so ex! -.- one person around $30. but there's loads of variety. the total bill was $500++ lol. i was so shocked when i heard that. it was at tampines. (: ohwell. to all mothers,

HAPPY MOTHER'S DAY! :DD
anw, i would post some random pics.(: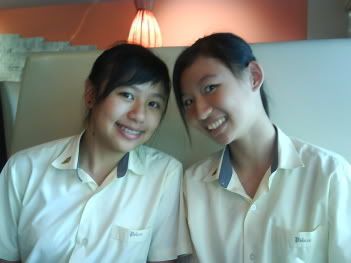 tracy! :D
my ss notes on the chair. coz i got tired of it so i left it there. HAHA.
the baby i adore! :DDDDD
i went out study with kailin(: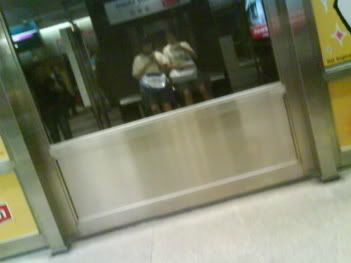 yingying. after watching 200 pounds beauty, the best movie ever. :D
❤JOEI!:D 8:18 PM
Saturday, May 12, 2007
vivo-ing! :D
OHAIYO!
its been a lonnnnggggggggggggggg time since i updated my blog. its because of EXAMS. hehhs. shant talk abt it. thurs, went to the cathay with yingying to watch 200 pounds beauty. its the BEST movie i've ever watched. heheee. so funny and touching at the same time! i so love happy endings! lol. ITS SUPER NICE! so those who havent watched, go catch it b4 its over! :D
fri, went vivo with quanyin, alexis, vivien and cherie. yupyup. so fun! we watched wild hogs. although its super funny, but 200 pounds beauty still better. HOHO! anw its a very very very funny show. so if you are feeling down, go watch it, it might cheer you up and hav a good laugh out of it. haha. quanyin treated us lunch. thanks alot! :D then we went to talk around. yupyup. im lazy to type anymore so i shall let the photos speak! (:
there goes! :D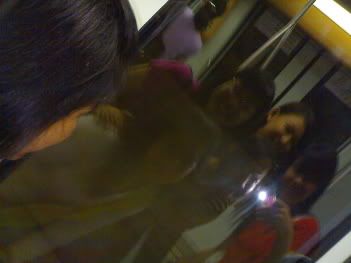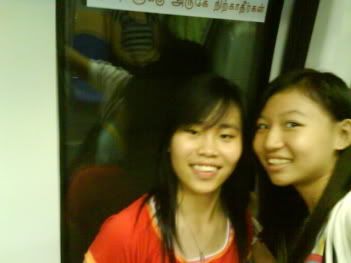 on the train!
ice-cream! :D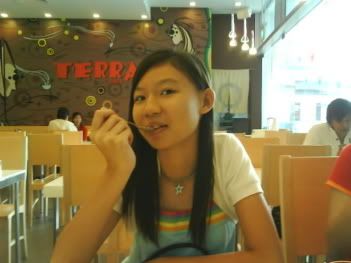 vivien said i look lyk a bitch. RAH wadeva (: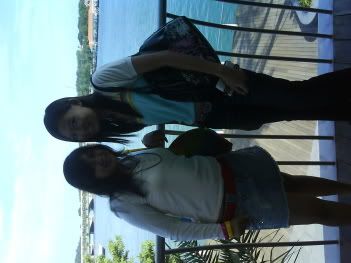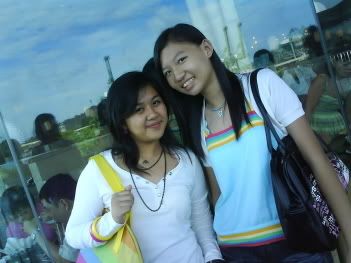 alexis!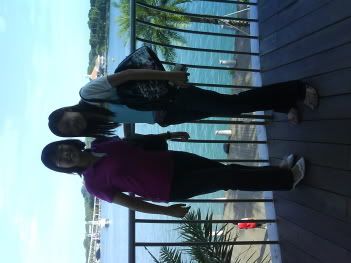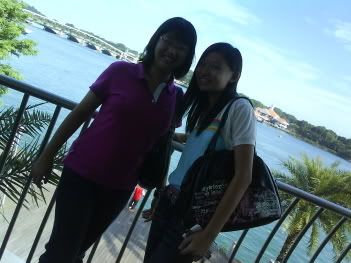 quanyin! the birthday girl :D
ASSHOLE(: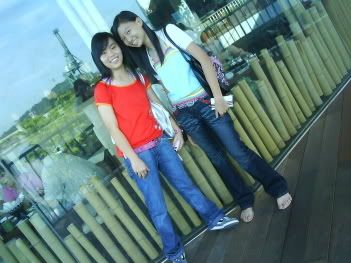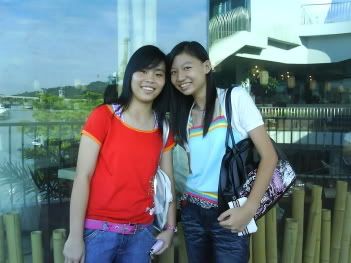 cherie!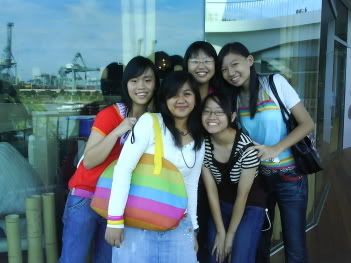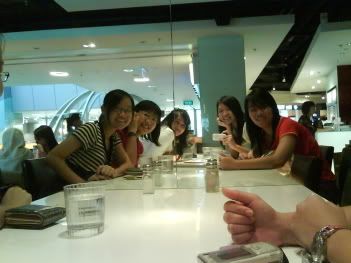 lastly, the 5 of us! :DDDDD
the end. haha. that's all for today. LOL! till then(:
❤JOEI!:D 1:22 PM